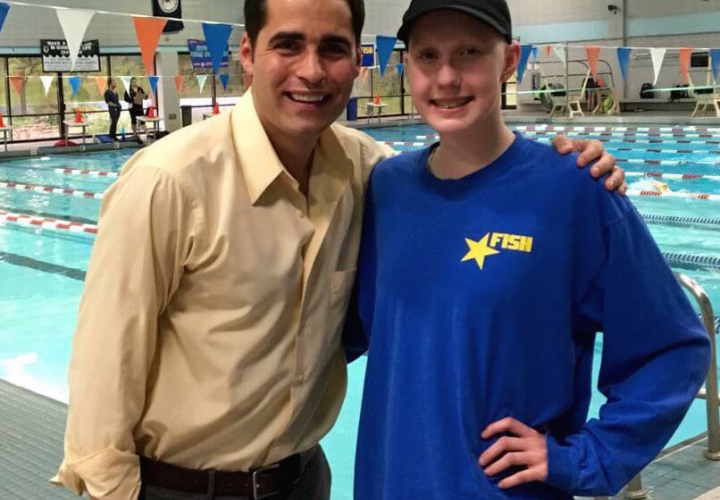 Photo Courtesy: Nicole Harmon Twitter
Speedo Sectional Series is proudly sponsored by Speedo. Visit SpeedoUsa.com for more information on our sponsor.
Long-course competition begins in Buffalo this weekend, as a continuation of the 2017 Speedo Sectionals series.
15-year-old Madelyn Donohoe of Potomac Valley's The FISH swim team holds the top seed in five events, including all three distance freestyle events, the 200 backstroke, and the 200 freestyle. She also sits in the second spot in two other events, the 100 freestyle and the 400 IM.
Cape Cod Swim Club's Michelle Guo is the one to beat in the women's 100 freestyle, while teammate Palma Foschi Walko sits in first in the women's 400 IM.
Donohoe's teammates Reese Fye and Mason Greenblatt will be battling in the men's distance events, as each hold a top seed apiece and are among the top three seeds in a multitude of other events. They are within a second of each other in the men's 800 freestyle on Thursday night.
University of Puerto Rico Mayaquez's Andres Solivan Rivera is the favorite for the men's middle distance events, as he has the top time in the 100 and 200 freestyles and the 200 butterfly, by a wide margin. Other UPRM top seeds include Juan Arellano Uribe in the men's 100 breaststroke, Morgan Toro Marrero in the men's 200 breaststroke, and Alex Hernandez Medina in the men's 100 butterfly, 50 freestyle, and 100 backstroke.
New Jersey's Cougar Aquatic Team and Peddie Aquatics will also be in attendance.
The meet begins Thursday night at 6pm for the women's 1500 and the men's 800 freestyles.
View the entire psych sheet here.