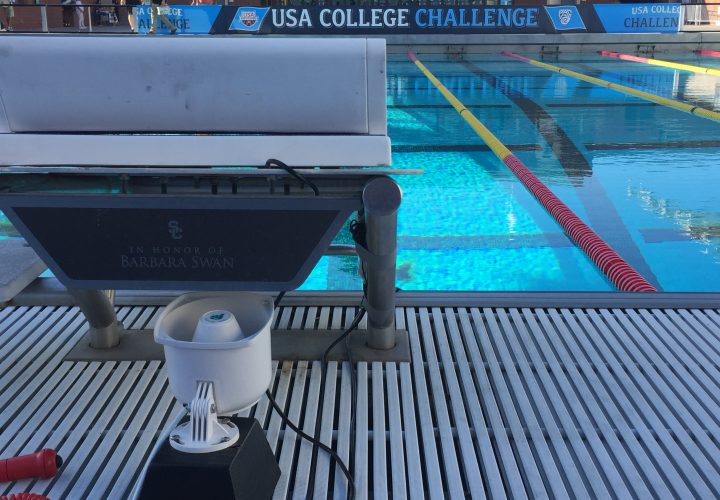 Photo Courtesy: David Rieder
This week's Performance Of The Week, sponsored by LumaLanes, goes to Maggie Aroesty for her win in the 200 breaststroke at the 2017 USA College Challenge at USC this weekend.
The USC freshman is having an amazing fall, having already recorded a personal best in-season at the SMU Classic just last week when she posted the fastest time of the meet from the B final in 2:08.01. She continued to slash huge chunks off her best time at this meet, touching the wall in 2:06.88 to hold off Olympian Molly Hannis and improve on her NCAA leading time in the 200 breast.
Out is a very quick 1:01.32, Aroesty was second at the 100 mark but turned it on in the second half, splitting matching 32's on her final two 50's (32.87 and 32.69 to be exact) to hold off a hard charging Hannis. That time was good for an NCAA A cut and the fastest time in the country by over a second, with teammates Riley Scott currently second fastest with her 2:07.99 from the same meet.
Speaking a post-race interview, Aroesty says was "totally shocked" by her time and credited her teammates, including Riley Scott, and her new training environment at USC as a major reason for her special swim. Aroesty's win would help the Pac-12 Conference Team go on to a 326.5 to 286.5 win over Team USA. You can see the entire post race interview below:
Congratulations Maggie Aroesty on earning Swimming World's Performance of the Week!
Special Thanks to LumaLanes for sponsoring Swimming World's Performance of the Week.
Learn More About LumaLanes