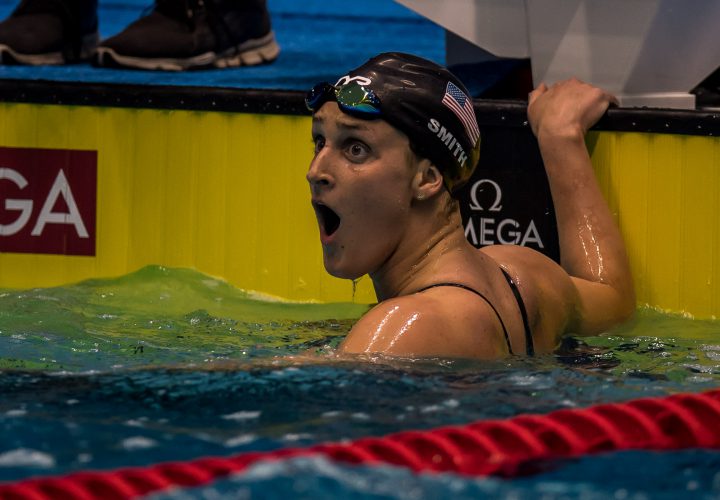 Photo Courtesy: Peter H. Bick
This week's Performance Of The Week, sponsored by LumaLanes, goes to Leah Smith for her win in the 400 IM at the 2017 Phillips 66 US National Championships this week. Smith won the event handily in 4:33.86, a huge best time and the third fastest time so far of 2017.
Smith had an amazing National Championships, grabbing individual berths in the 200, 400, 800, and 1500 freestyles. But while the former Virginia Cavalier has always been known for her prowess in the freestyle events, she has never been a major force in the 400 IM on the national or international stage until now.
To say that Smith's swim was a surprise would be an understatement. The Virginia swimmer's best long course time coming into 2017 was a 4:55.95 according to USA Swimming's database. She swam the event at the 2017 Charlotte UltraSwim in early June, dropping over ten second to go a personal best of 4:42.94, and was able to drop nearly 10 seconds more to win the event at Nationals less than a month later.
Smith admitted in a post-race interview that she "talked a lot of smack" to her coaches to let her swim the event this year and said she was even considering swimming the event at NCAAs before ultimately opting for the 200 free. Only time will tell how much Smith can continue to drop in that event leading up to Worlds in Budapest, but with the event being a relatively new one for her it's safe to say that anything could happen in just a few weeks.
Congratulations Leah Smith on earning Swimming World's Performance of the Week!
Special Thanks to LumaLanes for sponsoring Swimming World's Performance of the Week.
Learn More About LumaLanes