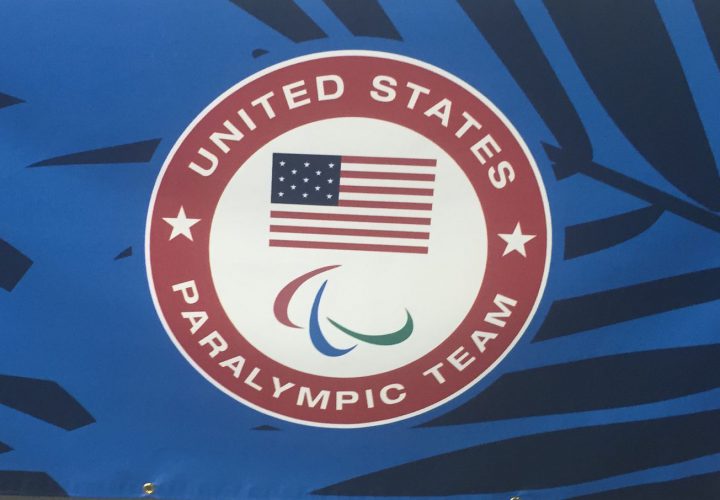 Photo Courtesy: Cathleen Pruden
Everything you need to know about day 3 finals of the U.S. Paralympic Swimming Trials can be found here!
Thursday marked the start of the 2016 U.S. Paralympic Trials at the Mecklenburg County Aquatic Center in Charlotte, North Carolina. The event will run from Thursday June 30 until Saturday evening, July 2. The Trials features swims from athletes across a range of classification categories.
Over 400 athletes are competing in this year's Paralympic Trials, with the hope of representing Team USA at the 2016 Rio Paralympic Games (September 7 – 18), following the 2016 Olympic Games (August 5 – 21). Four women and three men will represent the U.S. at the Rio Paralympic Games.
Note: The Paralympic classification system for athletes competing in swimming is coded with an S followed by a number. A swimmer competing in a lower number category indicates that they have a physical impairment that has more impact on their ability to compete in swimming. For example, a swimmer in the S2 category has more severe activity limitation in the water than a swimmer in the S14 category. A more detailed description of the classification system can be found here.
Tonight's Timeline Is As Follows:
Men's 150 IM (SM1 – SM4)
47-year old Michael DeMarco (SM3) was the only competitor in the Men's 150 IM, finishing in a time of 4:07.17.
Women's 200 IM (SM5 – SM14)
American record holder Rebecca Meyersposted the fastest time across all classes in her win of the 200 IM, touching in 2:29.50. Fellow American record holder Jessica Long (SM8) also finished at the top of her class with a 2:42.75 that was a nearly 6 second improvement over her prelims swim. Cortney Jordan (SM7) hit the wall in 3:04.97, dropping 6 seconds to take the win in her class. Just behind Jordan was Sophia Herzog (SM6), who almost got the American record for her class, finishing roughly 2 seconds short in 3:15.48.
Haley Beranbaum (SM5) dropped an impressive 4 seconds from her preliminary swim to grab the 200 IM title for her class (4:11.05), just outside her own American record of 4:05.80. Leslie Cichocki (SM14), also an American record holder, added 4 seconds from her solid prelims swim but still grabbed the win in 2:51.62. The closest race of the event came in the SM9 class, where Lindsay Grogan had a huge 13 second drop from her prelims swim to touch in 2:55.40 over Madelyn White (2:56.51), Samantha Tubbs (2:57.13), and Summer Schmit (2:58.60).
Men's 200 IM (SM5 – SM14)
Zach Shattuck (SM6) dropped nearly 3 more seconds from his prelims swim to lower his American record for the second time today, touching the wall in 3:01.09. Evan Austin (SM8) also had a big drop from a fantastic prelims swim, lowering his best time even further to 2:36.76.
American record holder Rudy Garcia-Tolson (SM7) won his class in 2:38.98, while fellow record holder Cody Bureau (SM9) won his class in 2:25.26. Notably, Dalton Herendeen (SM10) out-raced out American record holder Ian Silverman (SM10) to win their class, 2:20.69 to 2:29.60
Women's 100 Freestyle (S1- S13)
Michelle Konkoly (S9), who set the world record in the 50 freestyle yesterday, again lowered her American record and led all athletes in the event, touching the wall in 1:01.25 to take .75 off of her prelims swim of 1:02.00. That time is just .17 off of Natalie Du Toit's 1984 world record of 1:01.08.
American record holder Alyssa Gialamas (S5) won her class just off her record time (1:36.94), while Jessica Long (S8) was about 2 seconds over her American record time as well (1:06.99) to take the S8 class win. Letticia Martinez(S11) was also just off her record to win her class.
Men's 100 Freestyle (S1- S13)
American record holder Ian Silverman (S10) led all swimmers with a 55.50, slightly off his mark of 52.88 and just ahead of Tye Dutcher who touched in 57.28. Zach Shattuck (S6) was just off his new American record from this morning, winning his class in 1:14.36, ahead of Connor Giofreda (S6) who had a great swim in 1:16.84. Brad Snyder (S11) just missed John Morgan's American record with his win tonight, hitting the wall in 57.40 to drop two tenths from his prelims time. Evan Austin (S8) dropped 3 seconds from prelims to win his class in lifetime best 1:05.61.
Women's 100 Backstroke (S1, S2, S6 – S14)
Reilly Boyt (S6), broke the American record in her heat of the 100 backstroke, dropping 2 seconds from this morning to take the record in 1:38.67. Corney Jordan (S7) won a close race over McKenzie Coan (S7) in their class, 1:26.48 to 1:27.54.Hannah Aspden (S9) dropped another half second to win a close race against Elizabeth Smith, 1:13.08 to 1:14.61.
American holders Jessica Long (S8) and Leslie Cichocki (S14) won their respective classes in 1:19.56 and 1:15.86, just off both of their records.
Men's 100 Backstroke (S1, S2, S6 – S14)
Robert Griswold (S8) just broke his American record in the 100 backstroke, touching the wall in 1:04.69 to beat his record of 1:04.80. That time is about a second off of Konstantin Lisenkov's world record of 1:03.32. 27 year old American record holder Tucker Dupree (S12) won his class in 1:02.05, while fellow American record holder Garner Moss (S14) won his class in 1:13.14. Devin Marrero (S6) won a close battle over Connor Gioffreda (S6), 1:46.47 to 1:46.60.
Refresh the page to see the most recent results || results can also be found on the meet mobile app