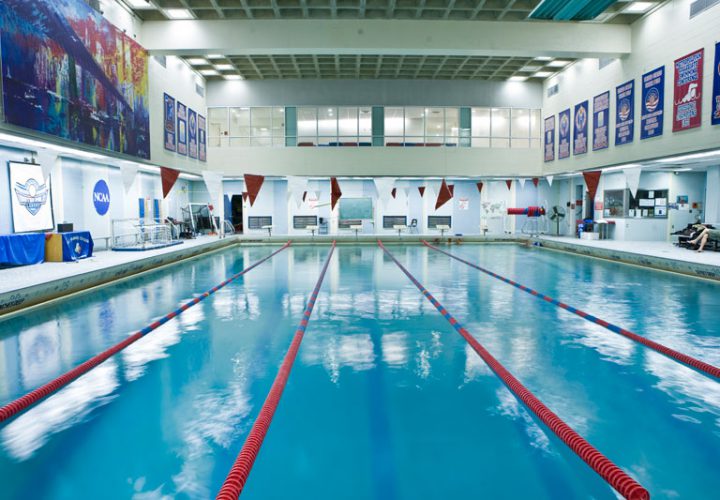 Photo Courtesy: St. Francis Athletics
By Erin Keaveny, Swimming World College Intern
Facility closure is something that affects programs at all different levels across the country. For example, the University of Texas pool was closed this past spring due to complications two weeks before NCAAs.
Coach Eddie Reese, who's led the Longhorn men to thirteen NCAA national championship titles, commented that "if you can't get to another pool, there is nothing you can do to maintain the level of fitness needed at the NCAA level." Luckily, the team was able to continue swimming in the diving well and other pools off campus.
Women's team head coach Carol Capitani noted, "I do feel that short term this disruption was a lesson in being grateful, and it may have brought our team closer. Looking back they were able to get the work in and train in less than ideal circumstances, which can only make them better."
Swimmers often refer to their training facilities as their "home pool" for a reason. The holes in the floor filled with water athletes spend so much time in really come to feel like a second home.
Whether a pool gets drained for some routine maintenance, much needed updates, or unexpected complications, facilities temporarily closing can significantly affect training. Outside of the obvious changes in location and schedule that occur, these closed pools can have vast effects on overall momentum and team attitudes as well.
Dealing with changes can be hard, but switching pools can help to teach some valuable lessons for athletics, and beyond.
1. Flexibility
When a facility closure occurs, it can prompt a huge change in typical training structure. But, getting forced to break out from a normal routine can be a blessing in disguise. It helps teach swimmers to be less reliant on their typical schedule, and instead be open and ready for changes.
Additionally, increased flexibility can help swimmers get ready for big meets. Warm up schedules and facilities at meets are often different, and having the ability to adapt to new surroundings lends a competitive edge.
2. Patience
Especially if a pool is closed due to unexpected complications, there might not be a definitive timeline for reopening. That can be frustrating. Understanding that these things can take time, even if they interrupt a personal training schedule requires maturity and patience. It takes a special kind of patience to recognize there will always be uncontrollables, but they will eventually pass.
3. Cross Training
In the worst cases, there might be some time where there is no access to a pool. That means in order to stay in shape some creativity might be involved. Trying different types of cardio like running or spinning classes might introduce you to something else you love. Just like swimming, everything is better with teammates. Spending active time outside of the pool together can bring a team even closer, an added bonus.
4. Collaboration
When pools are shut down, teams that train in them have to try and find another place to practice. This could mean sharing a facility and even pool time with another team. This might make for crowded pools, but it can also lead to new friends. The aquatic community has to stick together, especially when things go wrong.
All commentaries are the opinion of the author and do not necessarily reflect the views of Swimming World Magazine nor its staff.