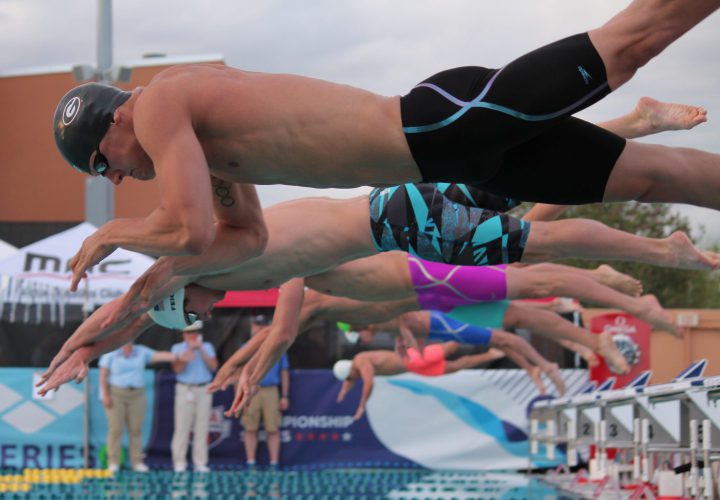 Photo Courtesy: Kara Sekenski
12/24/16
By Erin Himes, Swimming World College Intern
As I hopped in my local pool while on winter break this week, I looked over at the club team practicing with younger kids. They were working on sprints from the blocks, and I watched as kid after kid bellyflopped into the pool. I instantly thought back to when I was in that place. I, now a collegiate swimmer, had been club swimming for three years before I mastered diving. I was nine years old before I ever flawlessly dove into the pool without lifting my chin.
When you think about it, learning to dive is terrifying. To believe when someone tells you that if you put your chin down and don't watch what's happening you will be okay just doesn't sound real. It was a source of anxiety for me. Learning to trust other people's knowledge and having confidence in my own ability to do it did not come easy, clearly, as I struggled through endless private lessons centered on diving.
But when I thought about it today, I saw that the process of learning to dive parallels many of the lessons I learned much later from swimming. Diving as a kid is something we're afraid of or that often makes us nervous. For me, this was the same effect racing had later on. Just as I once had to trust a coach who said if I put my head down I would dive, I later struggled to trust a coach who said if I believed I could go best times, I would. As I once learned to have enough confidence to just go for that first dive, I later learned that the only way I would drop time is if I believed I could do it and went for it.
Diving into a pool for the first time, you're faced with three options: to succeed, to bellyflop and be in pain, or to give up and jump. These are the options we're given through the rest of our swimming careers too. Sometimes, we do something special or that we've never done before. It's what makes all the hard work and growth so worth it. Other times, we flop. We try to do what we think is right, only to find ourselves in a lot of pain after a race with no results to show for it.
But the worst of all is when we give up. As a summer league coach, I was always much happier when a kid tried to dive and didn't quite make it. The same is true later in our swimming careers. Giving in to the pain of a race or letting your technique slip because you're afraid of failing is never the way to do it. Just as we each learned what to differently to dive correctly from bellyflopping, we learn the most from when we fall on our faces, not from when we give in to the pressure.
These lessons we learn in the first months (or years, if you're me) of swimming are the ones that carry us far past the early years. Learning to trust yourself does not come easy at all, but it is the only way to succeed in a sport as mental as this one. If you believe you can do it and do anything in your power too, you'll either succeed or fail, but either way you're going to learn something valuable that will make you better later. So tomorrow when you head to Christmas training or next month at that big meet, remember that if you once believed you could dive when you never had, you can definitely do the things that seem impossible now.
All commentaries are the opinion of the author and do not necessarily reflect the views of Swimming World Magazine nor its staff.