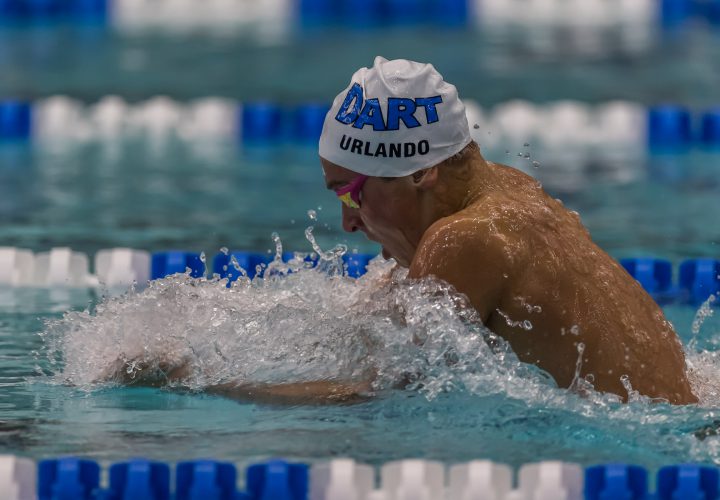 Photo Courtesy: Peter H. Bick
Editorial content for the 2018 TYR Pro Swim Series Mesa is sponsored by SwimOutlet.com. Visit SwimOutlet.com for more information on our sponsor. For full Swimming World coverage, check out our event coverage page.
Leah Smith earned her second victory of the night from lane one in the women's Mystery IM. Randomly given the order of freestyle, backstroke, butterfly, breaststroke, she had just enough room to hold off 18-year-old Callie Dickinson (2:18.79) for the win in 2:18.19.
Smith split 28.07, 35.47, 34.68, 39.97 while Dickinson split 37.01, 33.83, 35.97, 31.98 racing breaststroke, backstroke, butterfly, freestyle. Eleanna Koutsouvelli was also in the mix in 2:18.85.
16-year-old Gianluca Urlando provided the upset in the final event of the night by winning the men's Mystery IM in 2:06.09. His order of butterfly, freestyle, backstroke, breaststroke gave him the win with the following splits: 26.00, 29.19, 33.65 and 37.25. Urlando placed fourth in the 200 IM earlier in the meet.
Runner up Jarod Arroyo finished just behind in 2:06.89 and was followed by Isaac Stump in 2:07.35.