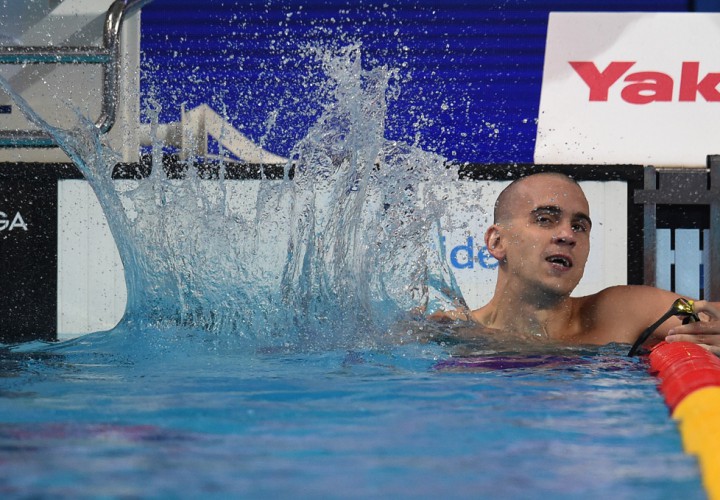 Photo Courtesy: R-Sport / MIA Rossiya Segodnya
Hungary's Laszlo Cseh took down the European record in the men's 200-meter fly at the 2015 European Short Course Championships.
Cseh clocked a time of 1:49.00 for the win tonight, downing the 1:49.46 set by Russia's Nikolay Skvortsov back in December 2009 at the European Short Course Championships.  That swim originally crushed the former European record of 1:50.53 set by Skvortsov in February of 2009.
Cseh split the race 24.19, 51.79 (27.60), 1:20.16 (28.37), 1:49.00 (28.84).
The swim moved Cseh to third in the all time rankings as he also crushed his former Hungarian record of 1:50.87 from 2011.
"Well, it might have been better if someone could push me a bit harder as I wanted the smash the world record but swimming lonely in front it's a hard task and I couldn't make it. My swim was fine after all, turns were OK, though I wasn't as dynamic in the last 25m as in the morning." – Laszlo Cseh
Only Chad le Clos (1:48.56) and Daiya Seto (1:48.92) have been faster than Cseh at this point in time.
All Time 200 Fly
[table "" not found /]