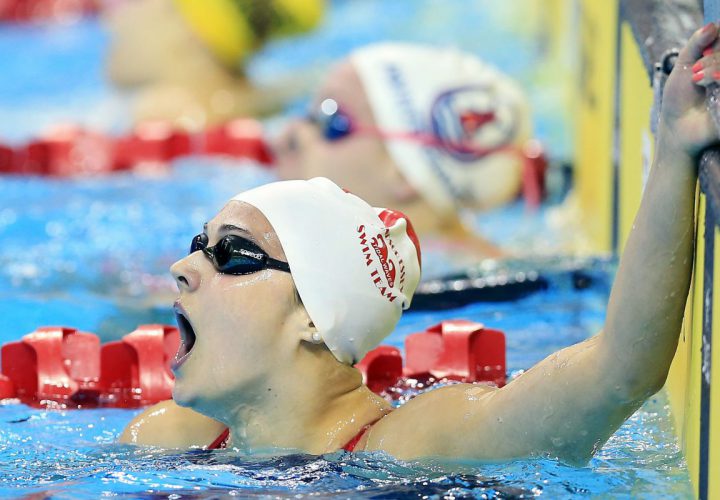 Photo Courtesy: Vaughn Ridley/Swimming Canada
Editorial Coverage provided by

It was the oldest world record on the women's side and it was finally broken Tuesday night at the 2017 FINA World Championships. Canadian Kylie Masse finally got under the women's 100 back world record, a record that so many had gotten close to, but no one had gotten under. Masse swam a 58.10 to get under Gemma Spofforth's world record of 58.12 from 2009. It is Canada's first world record in the women's 100 back since 1974 when Wendy Cook held the record for a short period.
Masse beat American Kathleen Baker who finished second at 58.58 for her first World Championship medal. Australia's Emily Seebohm won the bronze with a 58.59 for her fourth 100 back world championship medal.
USA's Olivia Smoliga (58.77), Russia's Anastasia Fesikova (58.83), Daria Ustinova (59.50), Czech Republic's Simona Baumrtova (59.71) and Great Britain's Kathleen Dawson (59.90) also competed in the A-final.
Canada has never won a gold medal in the women's 100 back at World Championships and Masse's gold is the first medal for Canada since Cheryl Gibson won bronze in 1978.
Baker interview:
Smoliga interview: