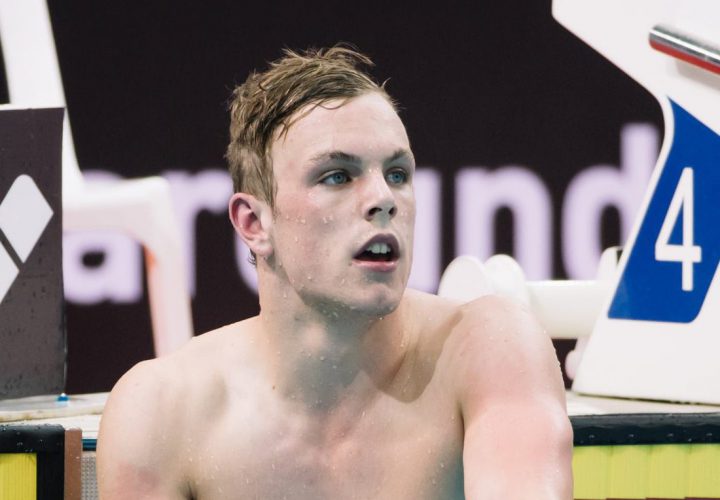 Photo Courtesy: Singapore Swimming Federation
What a year 2016 has been for young Kyle Chalmers – the ultimate Aussie underdog that stunned the world when he won gold in the men's 100m freestyle and last night picked up two major gongs at the AIS Sport Performance Awards (ASPAs) in Sydney.
An almost unknown on the swimming scene until this year, Chalmers made his first senior international team in 2015 for the FINA World Championships in Kazan as a relay swimmer, he then dominated the World Junior Championships in Singapore that same year.
But it was 2016 that saw him break through and rise up both the domestic and international ranks. With a second place finish at the Hancock Prospecting Australian Swimming Championships in April behind world championship silver medallist Cameron McEvoy in the 100m free, Chalmers secured an individual swim at the Rio Olympic Games and had qualified for just his second senior Dolphins team.
With his coach Peter Bishop the goal was to '…just make the finals' in the blue ribband event in Rio. After securing lane five for the final, Chalmers had the mindset that if you have a lane you have a chance, and the 18-year-old lined up next to his much more experienced competitors and calmly stuck to his own race plan.
After turning last at the 50 metre mark he then chased down the strong international field that included Olympic Champion from 2012 Nathan Adrian and his Aussie teammate McEvoy to take the win at the wall in a time of 47.58 and become the first Australian male to win the event since Michael Wenden in 1968.
In Rio Chalmers also played a crucial part in the bronze medal winning men's 4x100m freestyle and 4x100m medley relay teams and left his debut Olympic Games with three medals to his name.
Just last month the teenager was awarded the Swimming Australia 2016 Olympic Program Swimmer of the Year and Golden Moment Awards at a Gala dinner in Brisbane.
Last night Chalmers was recognised for his amazing achievements when he took out both the Male Athlete of the Year Award and the Sporting Moment of the Year Award at the ASPAs amongst a room full of sporting elite.
The awards were voted by the public and the national media and more than 350 guests including athletes, coaches and sports administrators celebrated Australia's sporting achievements for 2016 at the gala event in Sydney.
Swimming featured two of the four finalists in the Male Athlete of the Year category, Olympic 400m freestyle gold medallist Mack Horton also a contender.
Decorated Paralympic swimmer Maddison Elliott was a finalist in Para Performance of the Year while the Australian women's 4X100m freestyle relay team were finalists in Team of the Year.
Press release courtesy of Swimming Australia.