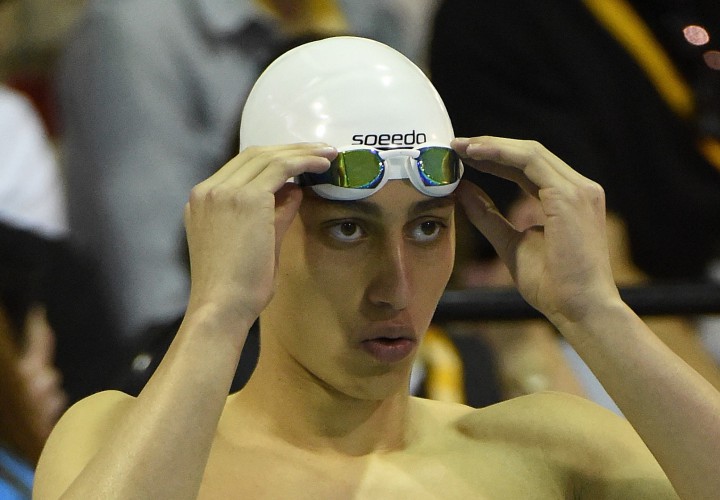 Photo Courtesy: Mike Comer/ProSwimVisuals.com
CHRISTIANBURG – Kristian Gkolomeev had jaws on the floor when the waves calmed down in the 50 free final at the Virginia Tech Invitational, posting the fastest 50 freestyle time so far this collegiate season – and nearly breaking the 19-second barrier.
Gkolomeev, the reigning co-champion in the event alongside Arizona's Brad Tandy, continued to show that his NCAA title swim was no fluke. The Alabama sophomore posted an astounding 19.11 in the final, putting him two tenths ahead of Caeleb Dressel's 19.31 from the Georgia Tech Invite that was likely swum at the same moment. Gkolomeev and Tandy tied with times of 18.95 last March, so Gkolomeev got within striking distance of his lifetime best.
Earlier in the session, Gkolomeev led off Alabama's winning 200 free relay with a 19.33. That split helped the Crimson Tide win the relay in 1:18.47, but it missed the NCAA automatic qualifying time of 1:18.02. Alex Gray (19.77), Luke Kaliszak (20.10) and Brett Walsh (19.27) also contributed to the relay win. Virginia Tech took second and third in the race, with the "A" team placing second with a 1:19.12 and the "B" team third in 1:20.79.
The women's 200 free relay turned out in similar fashion, with Alabama beating two Virginia Tech squads. The Tide took first with a 1:30.95, with Virginia Tech's "A" team placing second with a 1:31.69 and the "B" team third with a 1:32.89.
Fiona Donnelly nearly beat the "A" cut of 1:58.13 in the 200 IM, winning with a 1:58.67 that puts the Virginia Tech sophomore third in the collegiate rankings with a new school record. Donnelly led a Hokie 1-2-3 finish, with Klaudia Nazbielo second with a 2:00.45 and Holly Harper third with a 2:01.41.
Jessica Hespeler gave Virginia Tech another win tonight, taking the 500 free title with a 4:46.86. Emily Mayo got Villanova on the podium with a 4:47.56 for second place, while Victoria Mitchell of South Carolina took third with a 4:48.34.
In the women's 50 free, William & Mary took first and third, with Megan Howard taking the title with a 22.74 and Jaimie Miller placing third with a 23.26. Between them for second place was Meredith Vay of South Carolina with a 23.20.
Virginia Tech closed out the women's meet with a win in the 400 medley relay in a time of 3:39.33. Alabama settled for second with a 3:39.74 while Virginia Tech's "B" team was third with a 3:41.53.
South Carolina won two events on the men's side. Marwal El Kamash took the 500 free in a close battle with Virginia Tech's Michal Szuba, 4:20.82 to 4:21.04. Well back in third was South Carolina's Tom Peribonio with a 4:23.71.
In a 200 IM final that featured swimmers from South Carolina and Virginia Tech, Kevin Leithold won the event for the Gamecocks with a 1:47.16, while Virginia Tech's Brandon Fiala settled for second with a 1:47.55 after turning even with Leithold after breaststroke. Owen Burns of Virginia Tech was third with a 1:47.86 after leading for 150 yards.
With Gkolomeev's 42.02 freestyle split, Alabama handily won the 400 medley relay with a 3:11.16. Virginia Tech was second in 3:12.06 while Alabama's "B" team took third with a 3:13.81.
Results: Virginia Tech Invitational