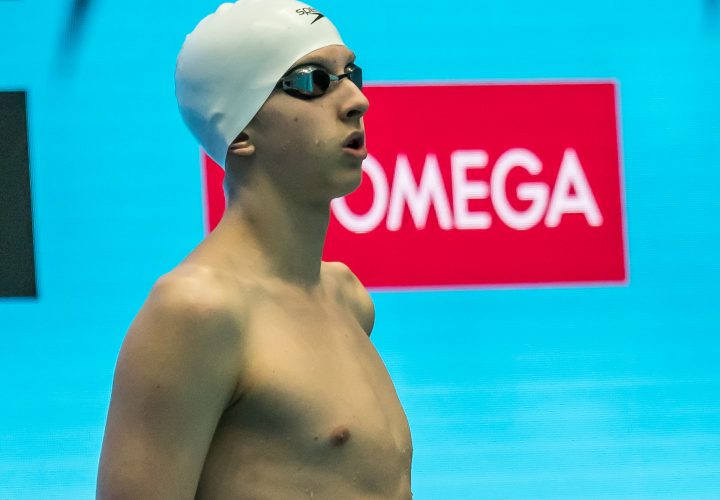 Photo Courtesy: Peter H. Bick
Agon is the proud sponsor of all high school coverage (recruiting, results, state championships, etc.) on SwimmingWorld.com. For more information about Agon, visit their website?AgonSwim.com.?National Records for High School Are Pending Application Verification.? Click Here to Learn More
Greenwich scored 487.5 points to win the 2018 Connecticut Boys High School Open State Championships. Fairfield Prep finished second with 457 points.
Ridgefield senior Kieran Smith was the story of the meet. The Florida commit won the 200 and 500 freestyle events, both in record fashion. In the 200 freestyle he destroyed the competition, as the only swimmer under 1:40, touching in 1:34.89. That time cleared his own state record of 1:35.18, set in prelims, and under the Open mark of 1:37.28 he recorded last year. It was also a new personal best for Smith.
In the 500 Smith impressed again. After posting a 4:21.37 state record in prelims Smith finished in a 4:18.83 in finals, only two seconds shy of his own lifetime best. That time was also significantly faster than his own Open Record, a 4:24.68 swum in 2017. Notre Dame senior Alfred North Hansen was runner up in both events (1:40.28, 4:30.45).
Smith led off Ridgefield's 200 medley relay (22.39) as his team of Andrew Bornstein, Luke Hruska, and William Bryant were second in 1:32.57, under the Open state record. Taking down the Open and State record, with a 1:31.56 was Fairfield Prep's squad of Liam Colleran, Oliver Rus, Stanislav Yarmoussik, and William Duffy.
Ridgefield added an individual victory in the 200 IM. Bornstein won the event in 1:52.00, just seven tenths faster than Weston's Nathan Katz in 1:52.70 and Pomperaug's William Regan with a 1:53.06.
In the 100 breaststroke, Bornstein fell just short of earning two state titles. Defending state champion, and state and open record holder Rus of Fairfield Prep got to the wall first. In prelims Rus set a new state record with a 54.25. In finals he was out in 25.84 to Bornstein's 26.27. Bornstein powered home, touching in 55.19, just .01 slower than Rus' 55.18. Rus had two victories on the day, winning the 50 freestyle in 20.53. Amity Regional's Colin Roy was second (20.93).
Norwalk/McMahon's Kevin Bradley won one meter diving with 515.15 points. Darien's Owen Stevens was second with 505.35 points, just over a point ahead of Greenwich's Devon Satir (504.70).
The 100 freestyle was decided at the touch. South Windsor senior Tyler Branscombe stopped the clock in 45.50 while Colin Roy of Amity Regional finished in 45.53.
Fairfield Prep continued to cement themselves as the leading team, winning the 200 freestyle relay in 1:24.29 (Colleran, Yarmoussik, Duffy, and Rus). Ridgefield was second in 1:25.90 (Bryant, Hruska, Connor Hunt, and Smith).
Colleran then hopped right back up to win the 100 backstroke in a 50.90. Colin MacKellar of Pomperaug (51.91) and Darien's Spencer Erickson (52.10) earned silver and bronze.
Fairfield Prep did not have the depth to complete a relay sweep. Greenwich's Mackenzie Baxter, Segundo Rienhardt, Stephan Todorovic, and Charles Clark were first to the wall in the 400 freestyle relay in 3:09.60, just .07 ahead of Pomperaug's Jack Muratori, John Moran, MacKellar, and William Regan in 3:06.97.