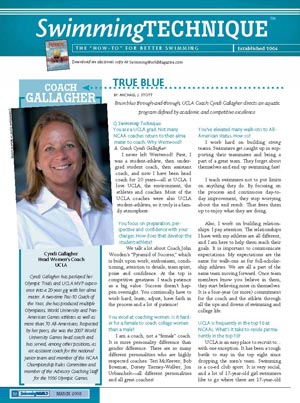 PHOENIX, Arizona, March 9. HEAD UCLA women's coach Cyndi Gallagher talks about training elements of Olympic hopeful Kim Vandenberg in the March issue of Swimming World. A 16-time All American at UCLA, Vandenberg, who graduated in 2006, is training for the U.S. Olympic Trials under coach Gallagher.
In this article, readers will find out the role added training elements have had in increasing Vandenberg's chances for success in reaching her goal of making the U.S. team that competes in Beijing. How coach and swimmer have developed creative solutions to training limitations caused by injuries. Also both Gallagher and Vandenberg have had to deal with the complications which arise when attempting to try to meet college team and post-graduate needs.
Premium subscribers who download and read the March issue of Swimming World Magazine from the Premium Section will be able to enjoy all the multimedia elements embedded in the issue.
The March issue contains the following SwimmingWorld.TV interviews:
* Paul Yetter, Sean Hutchison
* Arizona's Albert Subirats
* USA Diving's Debbie Hesse
* Rick DeMont
* Look into impact of strength and conditioning on the sport
Click here for a preview of the multimedia items available in the March issue.
This issue is truly interactive with nearly 100 links for Premium Subscribers to get the rest of the story, results or even visit the web sites of Swimming World Magazine's advertisers.
Become a Premium Member Today to take advantage of these great digital versions of Swimming World Magazine.
March 2008 Issue
Contents of The March issue:


3 NIKE TECHNIQUE TIP: Breaststroke Breath by Glenn Mills
8 PICK SIX by John Lohn
Auburn, under new head coach Richard Quick, will try to win an NCAA record-tying sixth straight men's team title.
13 THIRD TIME'S A CHARM? by Jason Marsteller
Arizona's women were picked to win all the marbles the last two years, but didn't. Swimming World Magazine still believes the Wildcats have the firepower to take it all.
18 VANDERKAAY DYNASTY by John Lohn
Christian, Peter, Alex and Dane Vanderkaay are leaving their mark in the pool.
20 2008 OLYMPIC PREVIEW: SOUTH AMERICA by Jason Marsteller
22 2007 DISABLED SWIMMERS OF THE YEAR:
Valerie Grand'Maison and Matthew Cowdrey
departments:
6 A VOICE for the SPORT
43 35th ANNUAL CAMP DIRECTORY
55 FOR THE RECORD
58 CALENDAR
62 PARTING SHOT
In the Swimming Technique portion of the magazine you will find the following:


30 Q&A WITH COACH CYNDI GALLAGHER by Michael J. Stott
Bruin blue through-and-through, UCLA Coach Cyndi Gallagher directs an aquatic program defined by academic and competitive excellence.
33 HOW THEY TRAIN: Kim Vandenberg by Michael J. Stott
34 CATCHING A WAVE by Michael J. Stott
Some of the sport's best college coaches share their insights on how to win an NCAA team championship.
37 IMPROVING PERFORMANCE IN SWIMMING:
Technology and Learning Strategies by Rod Havriluk
Coaches have found that a comprehensive program of instruction and analysis can substantially improve technique and performance.
In the SWIM portion of the magazine you will find the following:


25 THE POOL'S EDGE PRESENTED BY VIEW: Where's Your Head? by Karlyn Pipes-Neilsen
Achieving a neutral head position in each of your strokes is extremely important if you want to become a better swimmer.
26 DRYSIDE TRAINING: The Everyday Ab Routine by J.R. Rosania
28 5 BREASTSTROKE ESSENTIALS by Wayne Goldsmith and Helen Morris
In the Junior Swimmer portion of the magazine you will find the following:
39 NATIONAL AGE GROUP RECORD SETTER: Brady Fox
41 SPEEDO AMERICAN RELAY
Free Shipping in the USA