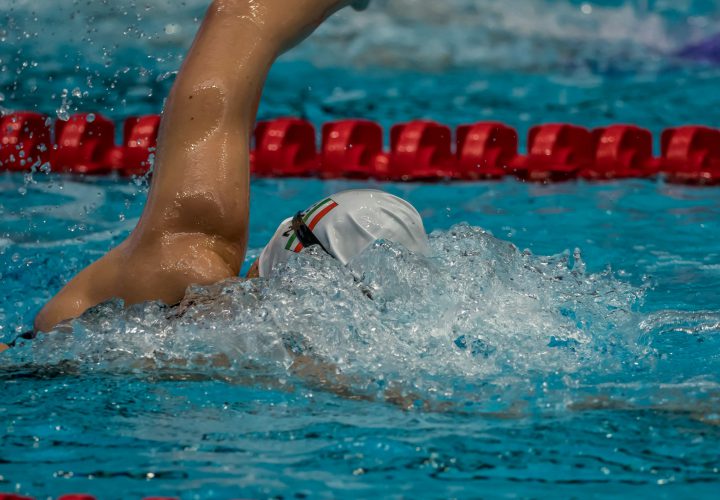 Photo Courtesy: Peter H. Bick
The third day of competition at the 2018 European Junior Championships saw two more championship records tumble and a new European Junior record standard be set.
Hungary's Ajna Kesely continued her distance sweep with a solid victory in the 1500, while Russia's Daria Vaskina set a new European Junior record in the 50 back.
2018 European Junior Championships, Day 3 Finals – Results
Men's 200 Fly
Kristof Milak of Hungary flew to victory in his signature event on day three of the championships. Milak jumped to an early lead and never looked back, finishing 2.46 seconds ahead of the competition with a time of 1:53.94.
Italy's Federico Burdisso posted a second place finish of 1:56.40, while Ukraine's Denys Kesil' was third with a close 1:56.45. Kesil' split the fastest final 50 of the race with an impressive 29.49.
Women's 200 Free Semi-Final
Ajna Kesely continued to reign over the freestyle events, topping the 200 free semi-finals with a 1:59.75. She was the only athlete to post a sub-two minute swim.
Russia's Polina Nevmovenko turned in 2:00.33 for the second place seed, followed by Germany's Isabel Marie Gose and her time of 2:00.53.
Men's 200 Back Semi-Final
Kliment Kolesnikov continued his trek towards a trio of gold medals in the backstroke events with a top showing in the semi-finals of the 200 back. Kolesnikov clocked a 1:59.66 for the top seed, but was followed closely by Romania's Daniel-Cristian Martin's 1:59.67. The two shared matching gold medals for their performances in the 100 back on day two.
Roman Mityukov of Switzerland turned in the first fastest time of the evening at a 2:00.02.
Women's 200 Breast
Russia's Anastasia Makarova surged to victory in the women's 200 breast, passing fellow Russian teammate Alena Chekhovskikh in the final 50 meters of the race. Chekhovskikh led throughout the first 150 meters of the race, but was unable to match Makarova's 36.70 split in the final 50 meters.
Makarova claimed the gold with a time of 2:26.29, while Chekhovskikh settled for silver and a time of 2:26.87.
Lithuania's Kotryna Teterevkova rounded out the podium with a final time of 2:27.09.
Men's 100 Free
Tomer Frankel continued his reign over the men's 100 free with a top showing of 49.23 in finals. Frankel posted the second fastest reaction time (0.62) and never relinquished the lead, despite a closing Andrei Minakov.
The 16-year-old Russian posted a second place finish of 49.24, .01 seconds behind Frankel. Minakov turned in the fastest split of the final 50 meters at 25.53.
Italy's Devid Zorzetto posted a third place finish of 49.47.
Women's 100 Fly Semi-Final
Great Britain's Emily Large picked up the first place seed in the women's 100 fly semi-finals and was the only woman to break the one-minute barrier. She stopped the clock at a 59.16, close to a full second ahead of the competition.
Aleyna Ozkan of Turkey turned in the second fastest time of the evening at a 1:00.08, followed by Italy's Helena Biasibetti's 1:00.45.
Men's 200 IM
Thomas Dean of Great Britain delivered the first championship record of the evening in the men's 200 IM, clocking a stunning 1:59.17. He lowered the previous record of 1:59.91, set by Russia's Semen Makovich in 2013, by .74 seconds.
Dean led throughout the majority of the race, turning second at the back-to-breast exchange by .01 seconds when Russia's Maksim Stupin out-split him 56.68 to 56.69. Stupin finished second overall with a 2:01.42.
Russian teammate Danil Zaytsev claimed the bronze with a 2:02.42.
Women's 50 Back
Russia's Daria Vaskina propelled to a new championship and European Junior record in the women's 50 back final. 15-year-old Vaskina unleashed a monsterous 27.90 to finish first by .61 seconds and eclipse the 28-second barrier after posting a 28.22 in semi-finals.
The previous championship record was a 28.18, posted by countrywoman Daria Ustinova in 2014, while Vaskina owned the European Junior record at a 28.08 from earlier this spring.
Great Britain's Lauren Cox turned in a second place finish of 28.51, followed by Italy's Giulia D'Innocenzo's 28.62.
Men's 50 Breast
Russia's Vladislav Gerasimenko delivered the fastest time of the men's 50 breast, stopping the clock at a final time of 28.03.
Didzis Rudavs of Latvia clocked a 28.19 for second place, just ahead of the Netherlands' Juri Benjamin Dijkstra and his time of 28.21.
Women's 1500 Free
Ajna Kesely of Hungary earned her fourth individual gold medal of the meet in the final event of the day, clocking a 16:21.19 for a strong victory in the women's 1500 free. After three days of competition, Kesely has won the 400-800-1500 freestyles, plus the 400 IM.
Germany's Celine Rieder claimed another distance silver medal with a 16:25.05, while third place was picked up by Italy's Giulia Salin and her time of 16:28.12.