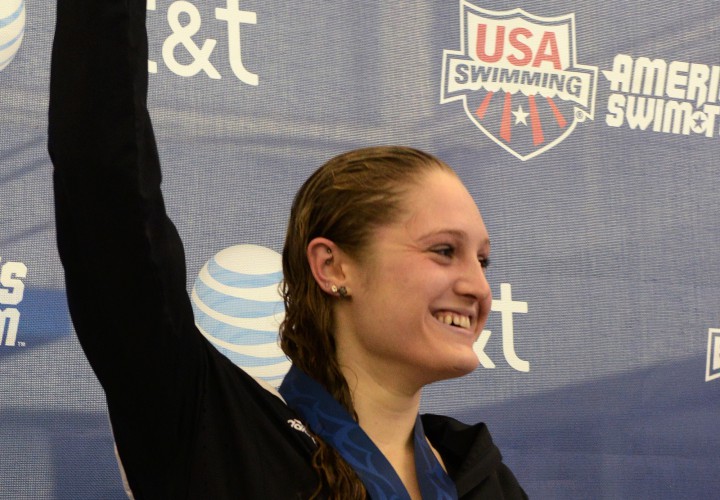 GREENSBORO – It looked like it hurt at the end of the race, but Louisville's Kelsi Worrell hung on to win the 200 butterfly at the USA Swimming short course nationals with a 1:54.29 to give the Cardinals a second-straight win. It's also an NCAA automatic qualifying time but just off her lifetime best of 1:53.63.
After swimming in the 100 free final (where she placed sixth with a 49.03), Worrell took command of the 200 fly from UCLA's Noelle Tarazona after 50 yards and never let it go. Schroeder YMCA's Hannah Saiz took over second from Tarazona with a lifetime best 1:55.46 to Tarazona's 1:55.50.
Lauren Case of Chattahoochee Gold (1:56.31), UCLA's Anna Quinn (1:57.25), Fort Collins' Bailey Nero (1:57.56) and Indiana's Bailey Pressey finished out the top seven. UCLA's Katie Grover was disqualified.
Indiana's Gia Dalesandro won the B final with a 1:56.33, while Caitlin Casazza took second in the heat with a 1:57.30 over the 1:57.82 by Devon Bibault.
In the C final, Katie Kinnear of UCLA won with a 1:58.62. Ellen Stello (1:59.04) and Isabella Paez (1:59.21) were second and third in the heat.