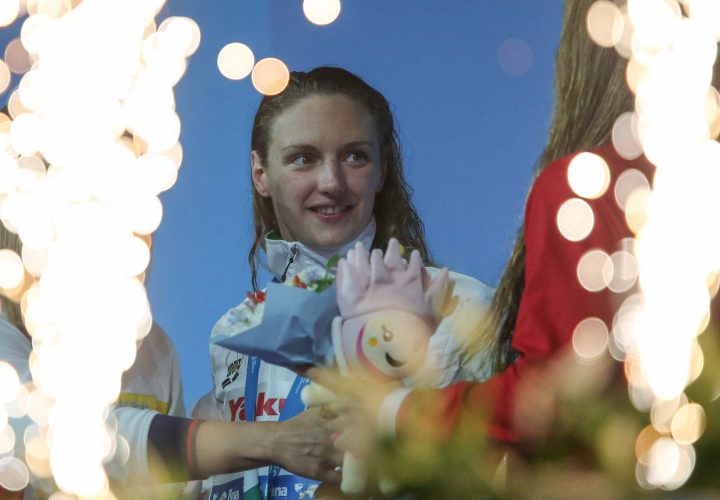 Editorial content for the 2017 FINA World Cup is sponsored by TritonWear. Visit TritonWear.com for more information on our sponsor. For full Swimming World coverage, check event coverage page.
The first morning of the World Cup in Hong Kong featured a long morning session. Hungary's Katinka Hosszu continued to make some noise as she led the way in three events. Also headlining the morning was World Cup leaders Chad Le Clos and Sarah Sjostrom leading the heats in their lone respective events.
Home favorite Kenneth To is also the top seed in the 100 IM as the Hong Kong crowd will be looking to cheer him on to a win. Tom Shields, Cameron van der Burgh and Femke Heemskerk also had good swims on Saturday morning.
Today's events:
Men's 100 Free
Women's 200 Free
Men's 50 Breast
Women's 100 Breast
Women's 100 Fly
Men's 100 Back
Women's 50 Back
Men's 200 Fly
Women's 200 IM
Men's 400 Free
Women's 50 Free
Men's 200 Breast
Men's 100 IM
Women's 200 Back
Men's 50 Fly
Men's 100 Free
Vladimir Morozov of Russia got the morning started with a 46.86 prelim swim in the 100 free to lead the qualifiers by over a second. Paraguay's Benjamin Hockin (48.09) and Netherlands' Kyle Stolk (48.50) followed Morozov into tonight's final.
Chad Le Clos of South Africa was well off the pace in fifth place at 49.26. Le Clos has been faster in butterfly, so he could challenge for the win on Saturday night against Morozov.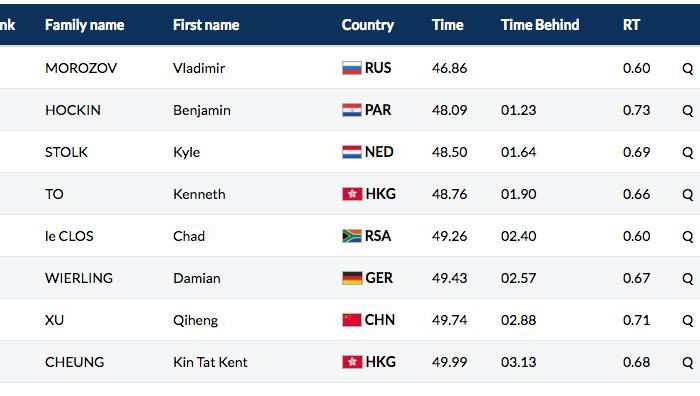 Women's 200 Free
Sarah Sjostrom had a good swim in her only race of the morning as she swam a 1:55.31 to lead the 200 free heats. Sjostrom is ahead of Dutch woman Femke Heemskerk (1:56.78) and China's Shen Duo (1:57.86).
China had a big presence in this event as four total swimmers will swim in tonight's final. Hong Kong and South Africa will also be represented.
Men's 50 Breast
South African world record holder Cameron van der Burgh had the quickest 50 breast of the morning with a 26.57 to lead the 50 breast qualifiers just ahead of Russian Kirill Prigoda (26.62). Paraguay is having a good session as Renato Prono grabbed the third seed at 26.79. Belarus' Ilya Shymanovich is also right there at 26.80.
Women's 100 Breast
Denmark's Rikke Pedersen got her meet started with a strong 100 breast morning swim at 1:06.19. Canada's Kierra Smith is the second seed going into tonight with a 1:07.56 ahead of local swimmer Natalie Kan from Hong Kong (1:09.88). Hong Kong will have plenty to cheer about as they have five swimmers in tonight's A-final.
Women's 100 Fly
Christina Licciardi of Australia had the fastest time in Sarah Sjostrom's absence as Licciardi swam a 58.72 to lead prelims ahead of China's Zhang Yufei (58.94). Germany's Alexandra Wenk (59.05) and local favorite Hang Yu Sze of Hong Kong is fourth.
Men's 100 Back
30-year-old Nelson Silva of Brazil had the fastest time of the morning in the 100 back with a 52.77. He was the only swimmer under 53 seconds as Belarus' Pavel Sankovich (53.12) and Poland's Radoslaw Kawecki (53.28) will move through to Saturday night's final. Hong Kong will have the three swimmers at the bottom of the heat in the final.
Women's 50 Back
Katinka Hosszu made her first appearance in the pool in Hong Kong as she swam a 26.99 in the 50 back heats. Hosszu is seeded ahead of Australia's Emily Seebohm (27.10) and the Netherlands' Maaike de Waard (27.42). Those three are head and shoulders ahead of the rest of the final. Hong Kong continued to make noise this morning as they placed two swimmers in this final.
Men's 200 Fly
Tom Shields is one of the few Americans in Hong Kong but he swam the fastest 200 fly prelim time by quite a margin with a 1:52.11. He is almost three seconds ahead of Japan's Yuya Yajima (1:54.92) and even further ahead of Australia's Brodie Cook (1:56.68). Olympic bronze medalist Tamas Kenderesi is also in tonight's final with a 1:56.95 this morning.
Women's 200 IM
Katinka Hosszu swam her second event of the session with a 2:05.64 to lead the 200 IM heats. She is well ahead of the rest of the field as Femke Heemskerk (2:11.83) and Alia Atkinson (2:12.62) were light years away from Hosszu. Emily Seebohm is also in tonight's final along with Germany's Alexandra Wenk.
Men's 400 Free
In a relatively weaker preliminary round, China's Qiu Ziao had the fastest 400 free with a 3:48.19. He is clearly ahead of Poland's Wojciech Wojdak, who expects to have a much faster final. Wojdak swam a 3:51.06 to place second while Poland's Filip Zaborowski (3:53.03) is the third seed. Australia's Brodie Cook will swim in his second final of the night in the 400 free with a 3:55.10. Cook also made the 200 fly final earlier.
Women's 50 Free
Femke Heemskerk leads a surprisingly small field in the 50 free as Heemskerk swam a 24.89 for the top seed. Hong Kong's Stephanie Au (25.16) is second and Heemskerk's Dutch teammate Maaike de Waard (25.18) is third. Au is one of three Hong Kong swimmers in tonight's final.
Men's 200 Breast
Russia's Kirill Prigoda is the top seed in the 200 breast with a 2:05.51. He leads the Netherlands' Arno Kamminga (2:07.52) and Belarus' Ilya Shymanovich (2:08.26) into tonight's final as they are swimming in the 50 breast final that will be held earlier in the session.
Men's 100 IM
Local favorite Kenneth To of Hong Kong is the top seed in his best event, the 100 IM. The former Aussie leads the field with a 53.28 this morning. To is ahead of world record holder Vladimir Morozov of Russia (53.96) and Danill Pasynkov (54.21) also from Russia. Other big names Benjamin Hockin of Paraguay, Pavel Sankovich of Belarus and Tom Shields of the USA will swim in the final.
Women's 200 Back
Katinka Hosszu led a sparse field in the 200 back with a 2:04.85 ahead of Germany's Lisa Graf (2:14.50) and South Africa's Kristen Straszacker (2:18.94). Only five total people entered the event so everyone will get a second swim.
Men's 50 Fly
The final preliminary event of the morning was the men's 50 fly as Belarus' Pavel Sankovich had the quickest time with a 23.77 ahead of China's Zhang Qibin (23.84) and Brazil's Nelson Silva (23.87). Benjamin Hockin of Paraguay will swim in his third final of the night in this event.