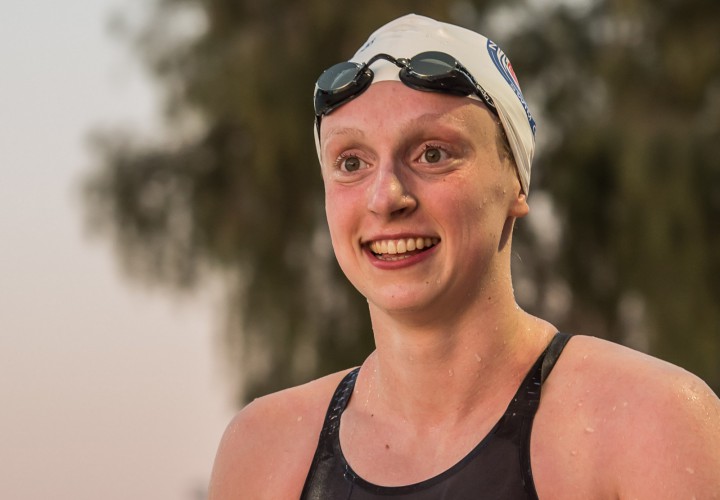 Photo Courtesy: Peter H. Bick
Katie Ledecky finds herself on another list for a prestigious award in 2015, this time for the U.S. Olympic Committee's Team USA Awards. She's the only swimmer on the list, but the American women's water polo squad is also nominated to give aquatic sports two chances for big wins.
Ledecky is one of five nominees for the Female Olympic Athlete of the Year after winning five gold medals at the world championships in Russia. Ledecky became the first person to win four freestyle gold medals in one world championships, and lowered her own world records in the 800 and 1500 freestyles. In the 1500 free, she managed to reset the record twice.
Ledecky's challengers for the award include tennis player Serena Williams, who nearly became the first person to win all four Grand Slam titles in one calendar year. But Williams still dominated on the court, winning four major titles across two tennis seasons.
Also nominated for Female Olympic Athlete of the Year are: Gymnast Simone Biles, who won a history-making fourth-straight all around title; wrestler Adeline Gray, who won a third world title in 2015; triathlete Gwen Jorgensen, who went undefeated this past season and won the world title.
The U.S. women's water polo team are nominated for Olympic Team of the Year after claiming a fourth gold medal at the world championships, more than any team in history. The team is the first to be the reigning Olympic, world, World Cup and World League champions. Also nominated with them are the women's world champion bobsled team and the World Cup-winning women's soccer team.
Despite winning world titles of their own, swimmers Ryan Lochte and Jessica Long were not among the nominees for Male Olympic Athlete of the Year and Female Paralympic Athlete of the Year, respectively.
The public can vote for their favorites at TeamUSA.org.