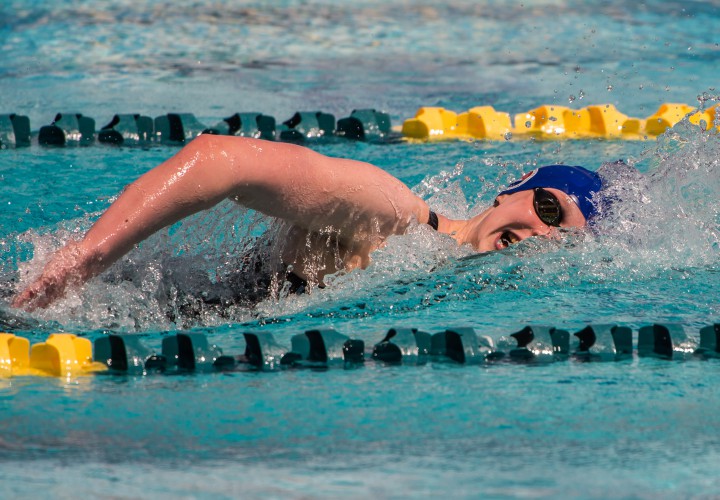 Photo Courtesy: Peter H. Bick
Editorial content for the 2015 Arena Pro Swim Series Mesa is sponsored by Arena. For full Swimming World coverage, check out our coverage page
NCAP's Katie Ledecky was out under world-record pace at the 500-meter mark before settling in for a conservative time to win the women's 800-meter free at the Arena Pro Swim Series Mesa.
Ledecky clocked in with an 8:13.02, the fourth fastest time all time.  That's not as fast as her world-leading 8:11.21 from the Austin stop of the Arena Pro Swim Series, but was more than enough for victory tonight.
That's Ledecky's fourth win in freestyle this week, having won the 200, 400, 800 and 1500 free here in Mesa.
NBAC's Lotte Friis hit the wall second tonight in 8:31.65 to move to 16th in the world.  Chile's Kristel Kobrich captured third overall in 8:41.06.
Tucson Ford's Tjasa Oder (8:48.28), The FISH's Madelyn Donohoe (8:51.93), Guatemala's Valerie Guest (8:51.98), Vien Nguyen (8:52.74) and Kirsten Jacobsen (8:53.69) also made their way into the top eight in the timed final event.
SCHEDULED EVENTS
Women's 200 IM
Men's 200 IM
Women's 200 back
Men's 200 back
Women's 100 free
Men's 100 free
Women's 800 free
Men's 1500 free
Women's 400 medley relay
Men's 400 medley relay