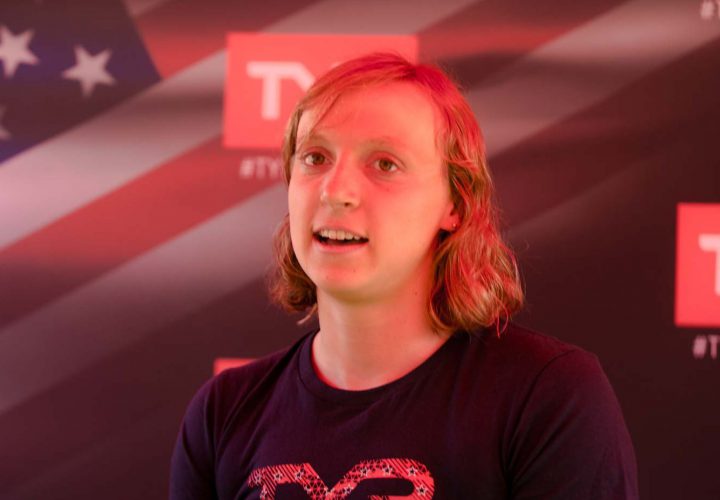 Photo Courtesy: JD Lasica
By Brie Harnden, Swimming World College Intern.
Katie Ledecky has been a keystone of USA Swimming for six years now, a journey that started with her stunning performance in the 800 freestyle at the 2012 Olympic Games in London. Ledecky has evolved into one of the most widely-recognized icons of Team USA as a result of her dominance and poise. Her career was further highlighted earlier this month when she announced her first professional endorsement with TYR Sport.
While this was a significant personal accomplishment for Ledecky, it also signaled the beginning of a new era for female athletes. Slated to run through 2024, the sponsorship is rumored to guarantee her seven million dollars before any world championship, Olympic Games or record bonuses.
Professional athletics have long been associated with men. The MLB, NBA, and NFL – three of the most popular entertainment sources for Americans – are exclusively composed of men. And just last week, Forbes compiled a list of the 100 top-earning athletes over the past year.
Not a single woman made the cut.
Even at the 2016 Rio Olympics, men like Michael Phelps and Ryan Lochte controlled most of the spotlight despite significant milestones on the women's side. Lochte's silver hair and Phelps' redemption quest surpassed notable performances, such as Ledecky's four gold medals and Simone Manuel's historic 100 freestyle title. 
Instead, female headlines focused on Missy Franklin's "disappointing" performances following multiple health issues or Dana Vollmer's "downgrade" from gold to bronze in her signature event – the 100 meter butterfly – just 17 months after giving birth to her first child.
Female swimmers in the US have power, depth and consistency unmatched by any other nation or sport. Jenny Thompson, Dara Torres, and Natalie Coughlin have each earned 12 Olympic medals – tied in seventh for the most-earned Olympic medals by either gender. Despite these feats, female swimmers and athletes in general have not reaped the same benefits as their equally successful male counterparts.
For example, Thompson trained and qualified for the 2004 games in Athens while she was in medical school. Perhaps that was what she wanted. Perhaps if professional swimming was a more viable option for women in the early 2000s, she could have focused solely on training before focusing solely on school. With four Olympic appearances and a Honda Sport award, she certainly should have been an athlete able to live off of endorsement payouts.
Both Thompson and Torres were members of Team Speedo for a time, though this could not sustain their lifestyles once their swimming careers came to an end. Torres now runs a health and fitness app and advertises public speaking appearances. Both women are legends in the swimming world who continue to live successful lives.
If more companies had been willing to sponsor these women 15 years ago, maybe Ledecky's deal today would be more expected than it is celebrated.
Coughlin is one of the few women with prestige comparable to professional men in the sport. At the height of her career, she was sponsored by Speedo and represented Pantene in a commercial campaign. Her sponsors allowed her to continue her professional career following her 2003 collegiate season through the 2016 Olympic Trials.
Interestingly enough, the potential of female athletes is well noticed. The most recent list of the world's top 50 most marketable athletes, as compiled by Sports Pro Media, included 14 women. Ledecky is the lone swimmer of the list, and she serves as a source of hope for the 13 other women who have yet to make the jump from marketable to profiting. Ledecky proves that there is plenty of room for women in the world of professional athletics, especially when a company is willing to support them.
This is not TYR's first era-shifting deal, either. The swimwear company supported Vollmer's comeback to competitive swimming throughout motherhood and even provided her with a custom-made kneeskin which allowed her to race while pregnant with her second child. Seven American women currently represent team TYR, the largest female group of any major swim company.
Ledecky's partnership creates a new standard for female professionals. By empowering the future stars of USA Swimming – whether they be women, mothers, or other underrepresented groups – Ledecky has changed the world of swimming yet again.
Years from now, someone will surpass her times and break her records, but they cannot take away the impact she has made in the world of professional female athletes.
Future professionals will be able to use Ledecky's sponsorship deal as leverage, and companies will be forced to be more competitive and enticing when proposing a deal with potential sponsors.
Ledecky stated: "Excellence has no gender." The #TYRxLedecky partnership is a positive step to ensure that female athletes are earning what they deserve.
Commentary: All commentaries are the opinion of the author and do not necessarily reflect the views of Swimming World Magazine nor its staff.