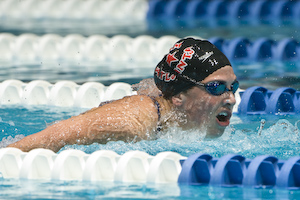 ATLANTA, Georgia, February 9. TODAY has been just plain silly when it comes to national high school records. With Michelle McKeehan (Indiana) and Mary Beck (Texas) taking aim at the 200 IM standard, and Jimmy Feigen (Texas) becoming the fastest male high schooler of all time with records in the 50 and 100 free – Georgia did not want to be left out.
At the GHSA State Swimming and Diving Championships, Swimming World six-star recruit Kathleen Hersey of Marist blasted the national independent school record in the 100 fly.
The University of Texas-bound senior clocked a time of 52.44 to obliterate Mary DeScenza's Nov. 18, 2000 mark of 53.11 set on behalf of Rosary High in Illinois. She went out in 25.01 and brought it home in 27.43.
Hersey nearly earned the fastest time in high school history, but fell short of Misty Hyman's incredible swim of 52.41 set as a student at Shadow Mountain High in Arizona on Nov. 9, 1996.
Also, Hersey nearly helped the 200 IM record be set three times in one day when she clocked a time of 1:57.41 to tie Beck's record from last year. Unfortunately for the swimming stat junkies, Hersey's effort happened much later in the day than the fireworks put on by Beck and McKeehan.