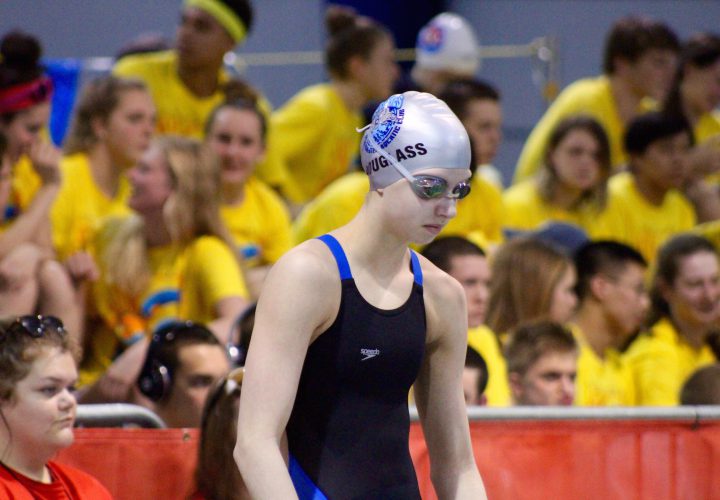 Photo Courtesy: Taylor Brien
Speedo Sectional Series is proudly sponsored by Speedo. Visit SpeedoUsa.com for more information on our sponsor.
Ithaca Speedo Sectionals wrapped up tonight with a few swimmers grabbing one more event win.
The Asphalt Green team of Charlotte Krevitt, Ana Olszewski, Sophia Zhang, and Isabel Gormley won the 200 freestyle relay by over a second in 1:34.61. Chelsea Piers' Sophia Moore, Amelia Sicignano, Mary Christensen, and Bridget Semenuk were second in 1:35.67 and Victor Swim Club's Megan Deuel, Bailey Klafehn, Kathleen Pollock, and Alyssa Helak (1:35.84) secured third.
Portland's Emily Ecker took her second gold of the weekend with a 9:57.41 in the 1000. Chelsea Piers teammates Elizabeth Boeckman (10:00.17) and Alexandra Truwit (10:05.03) touched second and third.
Three women cleared two minutes in the 200 backstroke, led by Badger's Quinn Scannell (1:57.00). A pair of 15 year olds: Asphalt Green's Isabel Gormley (1:58.53) and The Atlantic's Grace Kayal (1:58.61) completed the podium.
Kate Douglass impressed once again, this time with a 49.02 in the 100 freestyle. Coastal Maine's Olivia Tighe was second with a 50.56. Scannell touched third (51.40).
Badger's Carly Cummings demolished two minutes with a 1:58.77 to take the 200 IM. Gormely touched second (2:01.29) and Miku Takabayashi of Blue Devil finished third (2:02.43).
Moore teamed up with Christensen, Kelly Montesi and Alexandra Truwit to win the 400 medley relay for Chelsea Piers in 3:56.18. Asphalt Green touched just under a second behind (3:46.96) with the team of Gormley, Diana Bates, Zhang, and Krevitt. Nys Aquatics' Lauren Aylmer, Theresa Milio, Jessice Pryne, and Isabelle Arevalo (3:47.04) were third.
Asphalt Green Unified Aquatics won the women's meet with 483 points. Chelsea Piers Aquatic Club finished second with a 471 point total. In third was Victor Swim Club with a 344 point total.
Chelsea Piers snatched gold in the men's 200 freestyle relay as the team of Marcus Hodgson, Cole Pierce, Aedan Lewis, and Patrick Clisham touched in 1:24.16. In 1:24.64 Connor Miller, Auston Ramsay, Keda Song, and Nathaniel Davenport secured second for Kingfish. Rett McNair, Ryan Board, Tim Maggs, and Liam Picozzi swam a 1:24.88 for third for Adirondack Blue Fins.
Andrew Babyak grabbed another gold, this time in the 1650. The Badger swimmer touched in 15:26.79. Victor Swim Club's Kai Wisner out touched Upper Valley's Kristian Hansen 15:32.74 to 15:32.85 for second.
Patriot Swim Club's Andrew Carbone was one of three men under 1:50 in the 200 backstroke with his 1:47.16. Meriden's Tyler Prescott (1:48.25) took silver and Jared Daigle of North Shore won bronze (1:49.78).
After two wins last night, Hauppague's Drew Modrov was back to take the 100 freestyle crown in 44.42. Matthew Yish of Solo Aquatics was second (44.89) and Oliver Rus of Piranha Swimming (45.65) took third.
Calvin Yang of Crimson Aquatics got his hand to the wall in a tight 200 IM. The 17 year old posted a 1:51.15, just faster than Matchpoint's Oleksandr Bezuglyy (1:51.36) and Carbone (1:51.91).
The final relay of the night went to Hauppauge's Dylan Chan, Jack Casey, Zachary Papsco and Modrov in 3:23.73. In 3:24.99 Eastern Express' Vincent Marciano, Doyle, Jacob Lubinski, and Collin Hanlon earned second. Third went to Matchpoin's Bezuglly, Connor Morikawa, Patrick Clisham, and Marcus Hodgson with a 3:25.60.
Eastern Express totaled 421 points to win the men's meet ahead of Kingfish Swimming (374.5) and Hauppauge Athletic Association (319).
Chelsea Piers took the combined team title with 734.5 points. Asphalt Green finished runner ups with 672 points.