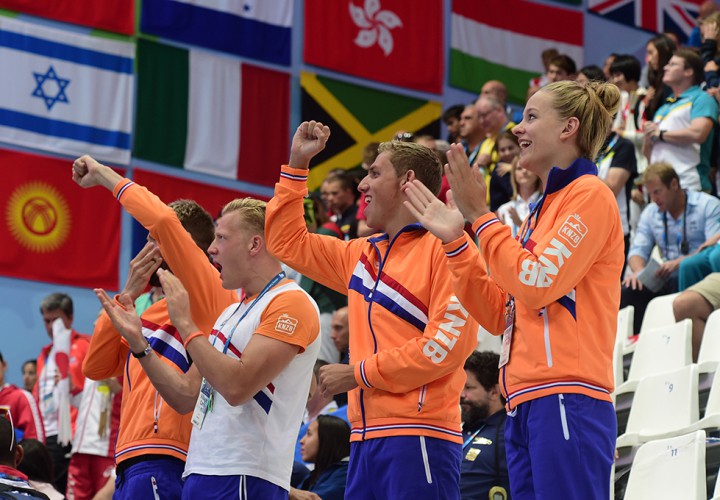 Photo Courtesy: R-Sport / MIA Rossiya Segodnya
The 2017 Eindhoven Swim Cup continued with fast times from Olympians and junior athletes as Dutch Championship records, meet records, and Dutch junior records toppled.
Jeannette Spiwoks turned in the top time of the women's 800 free, posting a final time of 8:42.07. Isabel Gose was second overall with a time of 8:45.60, while Laura van Engelen rounded out the podium with an 8:54.03.
Jesse Puts sprinted into the record books twice in the men's 50 free, lowering the Dutch Championship record to a 22.11 in prelims, before settling at a 21.95 in finals. Thomas de Boer turned in a 22.04 for second place, while Ben Schwietert took third with a 22.59.
Germany's Lisa Graf delivered a new meet record in the women's 200 back, stopping the clock at a 2:09.34. Graf's time slides past Sharon van Rouwendaal's 2012 record of 2:10.14. Simon Baumrtova picked up second with a 2:10.60, followed by Sonnele Ozturk's 2:11.73.
Fellow German Christian Diener continued Graf's record-breaking ways into the men's 200 back. Diener also took down the meet record, posting a final time of 1:57.54 to break Nick Driebergen's 2012 record of 1:57.96. Roman Dmytrjev added a second place finish of 2:00.14, while Bernhard Reitshammer was third with a 2:02.25.
Tes Schouten uncorked a 1:08.07 to win the women's 100 breast in record-breaking style. Schouten's time breaks the Dutch junior record of 1:9.86 she set in 2016. Second went to Jessica Steiger and her time of 1:08.49, while Martina Moravcikova was third with a 1:08.54.
It was a Dutch Championship record for Arno Kamminga in finals of the men's 100 breast. Kamminga held off a charging Marco Koch to finish first with a 1:00.71 over Koch's 1:00.75. The previous Dutch Championship record was a 1:01.30 set in 2016 by Kamminga. Christian von Lehn took third with a 1:01.44.
Ferry Weertman added another freestyle gold to his name with a victory in the 400. Weertman posted a 3:50.86 for the gold, while Poul Zellmann finished second overall with a 3:51.46. Maarten Brzoskowski was third overall with a 3:52.14.
Valentine Dumont uncorked a 2:11.14 to fly ahead of the competition in the women's 200 fly. Dumont finished more than eight seconds ahead of Femke Spiering's second place finish of 2:!9.53. Lisa Dressens rounded out the podium with a 2:22.68.
The men's 100 fly was highlighted by a duo of 52s as Joeri Verlinden and Mathys Goosen battled for the title. At the finish it was Verlinden who touched in a time of 52.23 over Goosen's 52.39.
Dutch sprint queens Ranomi Kromowidjojo and Femke Heemskerk topped the competition in the women's 100 free. Kromowidjojo got her hand to the wall first with a 53.72, just ahead of Heemskerk's 53.77. Marrit Steenbergen added a 53.98 for third and a new Dutch junior record.