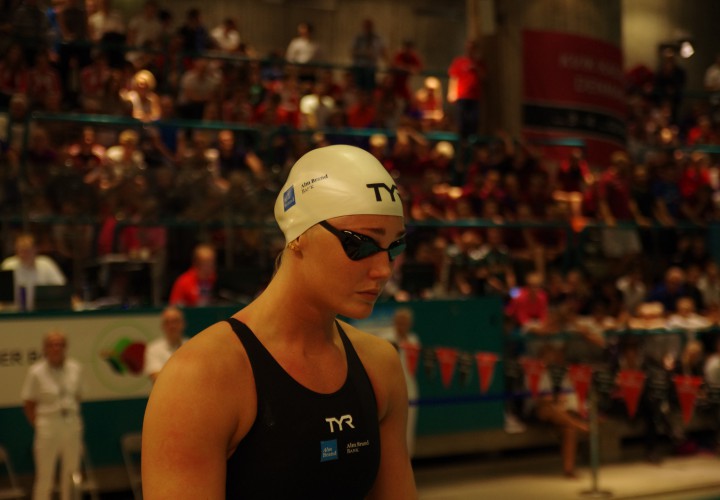 ROGALAND – Jeanette Ottesen and Ari-Pekka Liukkonen each set a 50-meter free meet record in what proved to be a fast day of competition at the North Sea Swim Meet in Rogaland, Norway.
Ottesen blasted her way to a 24.25 to win the women's 50-meter freestyle crown.  That swim pushed her up to sixth in the world rankings, and lowered the meet record.  Julie Klepp Jensen finished second in 25.01 with Cecilie Johannessen taking third in 25.04. Liukkonen joined the meet-record setters with a 21.37 in the men's 50-meter free.  That clipped his season best of 21.39 from the Dubai stop of the FINA World Cup and moved him up to 10th in the world ahead of Shinri Shioura's 21.38. Alexandre Haldemann (22.49) and Magnus Westermann (22.98) closed out the podium.
Pal Joensen topped the men's 800-meter freestyle with a time of 7:46.62.  That swim vaulted him to seventh in the world rankings this year. Erik Arsland Gidskehaug touched second in 8:05.55 with Jacques Lauffer earning third overall in 8:10.31. Meanwhile, Julie Aglund Lauridsen started the night off with an 8:29.15 to win the women's 800-meter free. Julia Hassler placed second in 8:33.87 with Maj Howardsen taking third in 8:49.48.
Rikke Moeller Pedersen checked in with a season-best 1:05.48 to win the women's 100-meter breast.  That swim cleared her 11th-ranked 1:06.09 and moved her to eighth overall.  Veera Kivrinta took second in 1:09.34 with Ariel Braathen placing third in 1:09.41. Sverre Naess claimed the men's 100-meter breast crown in 1:01.59 with Frans Johannesen earning second in 1:01.82 and Chris Christensen placing third in 1:01.89.
Susann Bjornsen stopped the clock in 2:15.42 to win the women's 200-meter IM, while Danielle Villars placed second in 2:16.79.  Sofie Reisaenen earned third overall in 2:16.86.  Daniel Skaaning then won the men's 200-meter IM in 1:59.95. Lukas Rauftlin (2:01.29) and Markus Lie (2:01.92) closed out the top three.
Julie Klepp Jensen popped a 28.07 to win the women's 50-meter back with Ida Lindborg (28.53) and Seraina Sturzenegger (28.86) finished second and third.  Markus Lie earned another podium with a 25.07 to win the men's 50-meter back.  Marco Loughran (25.26) and Lukas Rauftlin (25.55) went 2-3.
Danielle Villars won the women's 200-meter fly in 2:12.78 with Svenja Stoffel (2:15.36) and Julia Hassler (2:15.77) snagging second and third.  Sindri Jakobsson took home the men's 200-meter fly title in 1:59.77 with Alexandre Haldemann earning second in 2:02.03.  Tim van Berkel wound up third in 2:04.06.