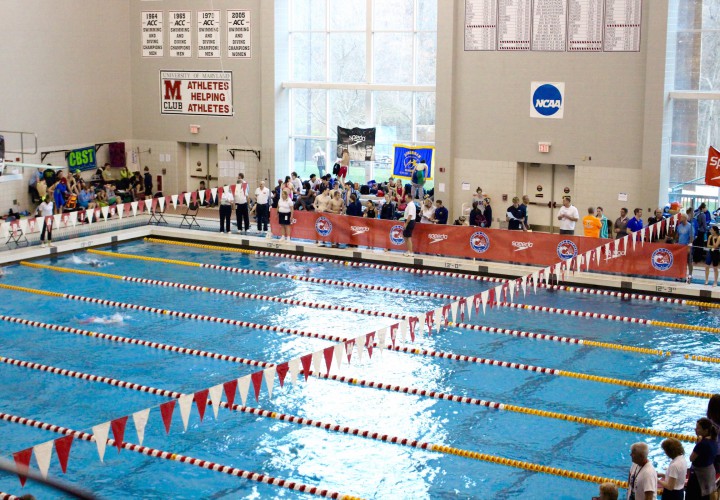 Photo Courtesy: Taylor Brien
Day three of Futures in College Park, Maryland featured five events and several young finalists.
In the Women's 200 fly, Solo Aquatics' Bryanna Cameron posted the top time of 2:14.55. Cameron was followed by Makayla Sargent of Victor Swim Club (2:16.37) and Rockville Montgomery's Madison Waechter (2:17.57). Sixteen year old Hugh Robey claimed the men's event in 2:04.09 for Nation's Capital. He was followed by Michael Strycher of Quest Swimming (2:05.24). River Wright, 15, went a 2:05.27 for a personal best and close third place finish.
The top three finishes for the 50 free on the men's and women's sides were separated by tenths of a second. Kathryn Ford finished first for women in :26.24. Fourteen year-olds Olivia Livingston and Christiana Regenauer followed at :26.49 and :26.71 respectively. Three teenagers claimed the men's 50. Mason Gonzalez posted a :23.42; he was closely followed by Scott Remeyn (:23.57) and Cason Wilburn (:23.79).
Delaware's Jack Portmann dominated the men's 200 breast with a 2:20.98. Benjamin Skopic (2:23.45) and Charles Palsho (2:23.59) touched several body lengths after Portmann. The women's 200 breast results have not been finalized.
The women's 100 back came down to the touch. Kathryn Ford clocked a 1:03.73, Maggie Miller was second with a 1:03.94, and Eireni Moshos claimed third in 1:03.95. The results for the men's 100 back have not been finalized.
The final race of the night was the 400 free. The top three men swam 4:00s. Fifteen year-old Ivan Puskovitch was first to the wall in 4:00.23. Puskovitch was closely followed by Joshua Wroblewski and Parker Neri. Wroblewski out touched Neri in 4:00.23. Neri was thinrd in 4:00.91. For the women, Makayla Sargent took first in 4:18.88. Two Nation's Capital 15-year-olds, Sinead Eksteen and Claire Nguyen, battled for runner up. Eksteen finished second in 4:20.18 and Nguyen placed third in 4:20.49.
Full results available on Meet Mobile.