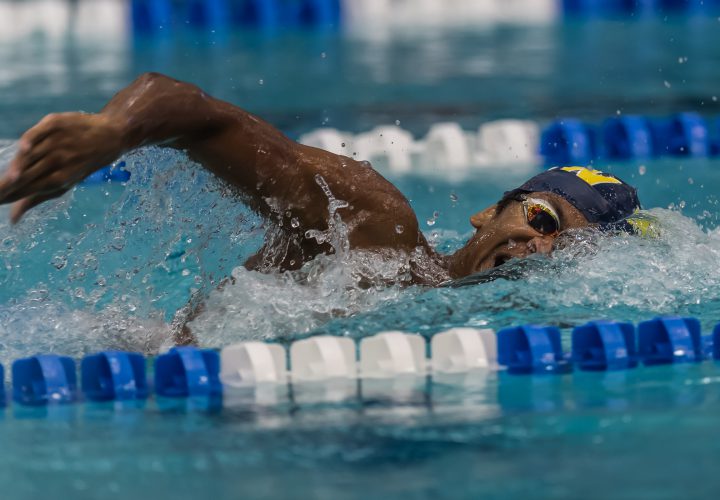 Photo Courtesy: Peter H. Bick
Agon is the proud sponsor of all high school coverage (recruiting, results, state championships, etc.) on SwimmingWorld.com. For more information about Agon, visit their website?AgonSwim.com.?National Records for High School Are Pending Application Verification.? Click Here to Learn More
Agon is the proud sponsor of all high school coverage (recruiting, results, state championships, etc.) on SwimmingWorld.com. For more information about Agon, visit their website AgonSwim.com.
The Texas 6A High School State Championship did not fail to impress. A total of eight records – seven state and one 6A – were broken. Southlake Carroll senior Jack LeVant set two of those records en route to winning both the boys 200 and 500 freestyles.
Southlake Carroll won the boys title with 247 points, followed by Conroe The Woodlands (196) and Humble Kingwood (186.5). Conore The Woodlands won the girls team title with 253, followed by Southlake Carroll (215) and Austin Westlake (208).
The first Texas High School record to fall came from Conroe The Woodlands, who began the meet by setting a new mark in the girls 4×50 medley relay by nearly one full second. Lucie Nordmann (24.81), Caitlin Reynera (29.54), Lillie Nordmann (23.85) and Valerie Anne Staffeldt (22.67) combined to post a time of 1:40.87, besting their own mark from last year.
One of the biggest swims of the night came from senior Jack LeVant in the boys 200 free. LeVant, who is headed to Stanford in the fall, stopped the clock in 1:33.57. His time broke the Texas record by nearly three seconds and was only three-tenths off the National High School record of 1:33.26 set by his future Cardinal teammate Grant Shoults in 2016.
LeVant didn't stop there, however. The senior then broke the Texas state record in the boys 500 free in a time of 4:16.78, winning the event by 10 seconds. That swim got him just under the previous mark of 4:16.90 set in 2014.
2017 World Championship qualifier Dakota Luther of Austin Westlake won the girls 100 fly en route to breaking her own Texas High School record. The future Georgia Bulldog's time of 52.16 was one-tenth faster than her mark set last year. She also finished second in the 200 free (1:45.36).
Not to be outdone, Belton's Noah Henry added his own record-setting performance in the boys 100 fly. The Arizona State commit got his hands to the wall in 47.07, eclipsing the previous Texas record of 47.12 set back in 2012.
Allen's Jason Park set a new Texas 6A record in the boys 100 back with a time of 47.09. Park, who will stay close to home next year and swim for the Texas Longhorns, dipped under the previous record of 47.37 from 2009. Future Texas A&M Aggie Shaine Cassas was also under the old mark and finished a close second in 47.12.
Midland's Braden Vines, another future Longhorn, lowered his own state record in the boys 100 breast again today. His time of 54.18 was even faster than the 54.37 he posted during prelims.
McKinney Boyd's Vanessa Pearl broke one of the oldest records in the books, knocking down Annie Chandler's girls 100 breast Texas High School record of 1:00.72 set in 2005. Pearl, heading to Florida later this year, finished in a time of 1:00.12.
Stanford commit Lucie Nordmann also won two state titles today. Her time of 1:44.98 in the 200 free was three-tenths off the Texas High School record and her 52.58 100 back was one-tenth off her own mark.
Complete results can be found on Meet Mobile – 6A Finals.