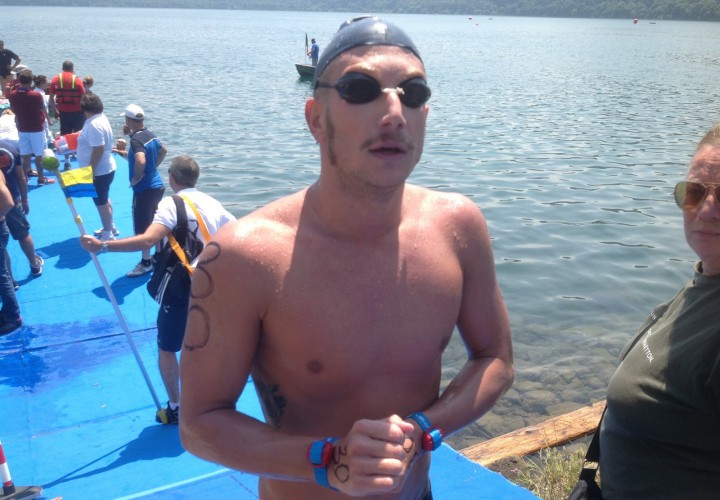 Photo Courtesy: CSE Pubblisport
The last race of the 2017 circuit of the FINA/HOSA 10km Marathon Swimming World Cup was held on Saturday October 21 in Hong Kong (HKG), after seven meets that take place from February 2017.
Rob Muffels of Germany touched home first in the men's race in 1h53m10s4, while Olympic champion Ferry Weertman of the Netherlands was second in 1h53m11s1. Allan do Carmo (BRA) completed the podium shortly after, clocking a time of 1h53m11s2.
Despite finishing in the seventh position in the grand season finale in Hong Kong, Italy's Simone Ruffini is the overall winner of the 2017 FINA/HOSA 10km Marathon Swimming World Cup with 85 points. Behind him, are Do Carmo and Federico Vanelli (ITA), with 78 points each.
In the women's competition, Arianna Bridi of Italy confirmed her lead by winning the last race of circuit in 2h02m12s6, narrowly defeating the Brazilian champion Ana Marcela Cunha (2h02m12s7). Germany's Finnia Wunram took bronze in 2h02m14s7.
After three gold medals, in Viedma, Lac St Jean, and Hong Kong, Bridi naturally claims the overall 2017 title with 124 points. Cunha secures the second position in the overall ranking with 102 points and Rachele Bruni (ITA) is third with 98 points.

MEDALLISTS IN HONG KONG (detailed results here)

Men
1. Rob Muffels (GER) 1:53:10.4; 2. Ferry Weertman (NED) 1:53:11.1; 3.  Allan do Carmo (BRA) 1:53:11.2
Women
1. Arianna Bridi (ITA) 2:02:12.6; 2. Ana Marcela Cunha (BRA) 2:02:12.7; 3. Finnia Wunram (GER) 2:02:14.7
FINA/HOSA 10km MSWC 2017 Calendar (completed)
1. Patagones-Viedma (ARG) – February 4
2. Abu Dhabi (UAE) – March 11
3. Setubal (POR) – June 24
4. Lac St Jean (CAN) – July 27
5. Lac Megantic (CAN) – August 12
6. Chun'An (CHN) – October 15
7. Hong Kong (HKG) – October 21
Press release courtesy of FINA.