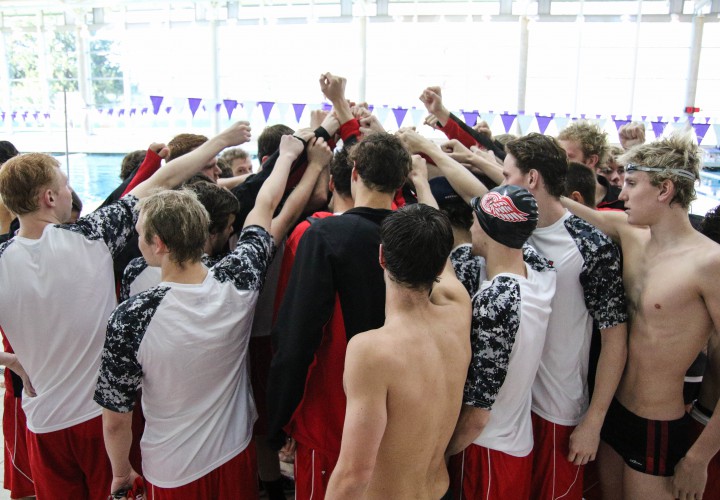 Photo Courtesy: Allen Rich
By Lillian Nelson, Swimming World College Intern
Swimming is a unique sport in that it evokes an incredible maturity and responsibility in its athletes. There is no such thing as "fake it 'til you make it" here. There is no "getting lucky." You get out what you put in.
This cold hard truth is what conditions athletes, no matter what stage he or she is at in his or her career, to understand and appreciate all aspects of what goes into the process of reaching success.
In order to succeed in our world, it all boils down to one thing: Respect.
Respect your coaches. 
Your coaches are likely some of the most influential people in your life. They are committed to your success, sometimes even more than you yourself are. They are at the pool before you get there, and stay long after you leave.
Most of their time is spent either dreaming about lineups and race strategies, giving out killer workouts that push you to delve into your potential and test your limits, or researching different drills, techniques, nutrition habits, cross training, and whatever else they think may possibly increase your chances of success.
Having respect for these incredible people is something that comes without question. They are just as much a part of the process as you are, and a lack of respect and trust in them will lead to unsatisfactory results. Believe it or not, your coaches know a thing or two. Whether they have gathered their knowledge through their own experience "back in the day" or through plenty of trial and error over the years. Respect for your coaches is not an option. It is a necessity.
Respect your teammates.
There is no one quite like them. A quirky bunch, with many different backgrounds, all commonly connected through sport. We've all got to be at least a little crazy to voluntarily do what we do on a daily basis. But there is no one else you would rather swim a 4,000-yard main set with.
They are the only other people who truly understand what you go through, because they are right next to you, going through the same thing. Having a mutual respect with your fellow athletes, your own teammates specifically, allows you to both learn from them and trust that they will have your back when you need someone to lean on.
When it comes to respecting your fellow foes in the pool, carrying yourself with composure and poise is something that anyone and everyone can appreciate. No one likes a sore loser, but more importantly, no one likes an overindulgent winner. No matter the outcome, remember that everyone left whatever they had in the pool.
Especially as we are amidst championship season, keeping the concept of respect a priority is one of the most valuable things you may ever do for yourself. This sport has a way of not only sculpting incredible athletes, but also exemplary human beings.
Respect yourself.
Your potential can only be unlocked by you. When it comes down to it, you are the one who has to show up and prove that all the early mornings, sore muscles, and the "I can't, I have practice" responses were worth it. Having respect for yourself enough to be able to do this should empower you to reach new heights. Realize that you are capable of much more than you probably think.
So as you head into your championship meet for this season, hold yourself to the standard of respect. It may open doors for you that you did not think were there.