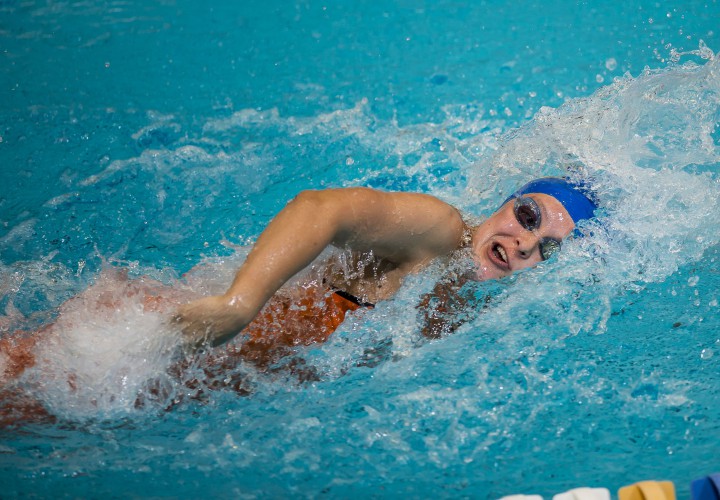 ORLANDO, Florida, March 22. THE crowd at the NCSA Junior National Championships was treated to the fastest heats of the men and women's timed-final miles on the last night of finals.
Women's 1650 Freestyle:
1000 freestyle winner Isabella Rongione, enterd with a 16:12.22, was the top seed among the women milers. Even with a daunting 66 laps before her, she paced the race like a pro, splitting 29 mids the entire way. She consistently outsplit her competition by four tenths of a second, showing that her recent move to Nations Capital to swim with Katie Ledecky under ASCA Coach of the Year Bruce Gemmell was a smart decision.
Rongione finished the race first with a 16:09.48, cutting nearly three seconds from her best time. Teammate Megan Byrnes had a secure hold on second after the 800 yard mark and finished with a 16:15.29. Chenoa Devine took third with a 16:20.33.
"I just try to take [the mile] 25 by 25 and not focus on the whole thing," Rongione told Swimming World after the race.
Men's 1650 Freestyle:
Everyone expected that Townsley Haas would be the one to beat in the men's mile. After all, he had already won the 1000, 500, 200 and 100 freestyles. But once the top eight seeded men dove in to swim the timed final race, it became apparent that sixth seed Patrick Ransford (PACK) meant business.
Ransford held 27 lows for the majority of the race and kept a firm grip on the competition throughout the 66 lap freestyle event. Ransford finished the race in a 14:46.40, taking a remarkable 36 seconds off his 15:20.33 seed time. Townley Haas came in second and Clearwater's Matthew Hirschberger took the bronze.
"In practice I'd been holding 27 flats, so doing that was in the back of my mind," said Ransford post-race. "I didn't think I could hold it for 66 laps, though. It's so great that there is such excellent competition at this meet."