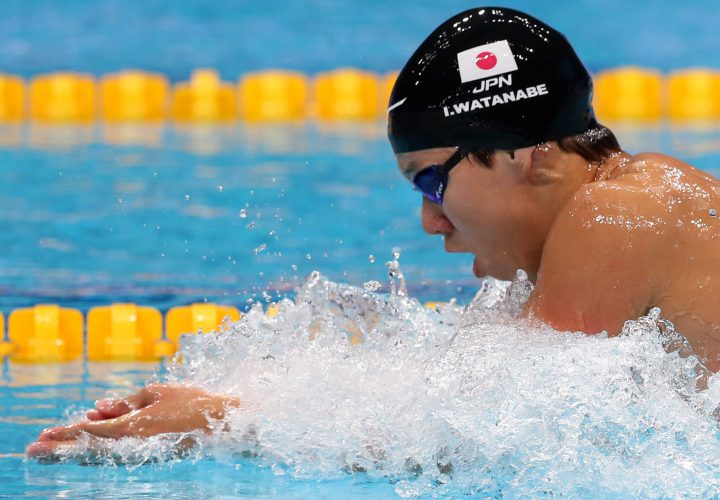 The fourth and final day of the 2018 Japan Open featured top names like Rikako Ikee, Ippei Watanabe, Kosuke Hagino, and Yui Ohashi adding additional victories to their name.
Day Four Finals
Women's 1500 Free
Men's 800 Free
Women's 50 Free
Men's 50 Free
Women's 200 Back
Men's 200 Back
Women's 100 Fly
Men's 100 Fly
Women's 200 Breast
Men's 200 Breast
Shinri Shioura and Rikako Ikee topped the men's and women's splash and dash events with times of 22.15 and 24.47 respectively. Ikee's time of 24.47 neared her national record of 24.21, set this past April.
Ikee followed up her 50 free victory with a top showing in the women's 100 fly, posting a final time of 56.93. Once again, Ikee's time was just shy of her own national record (56.38). Yui Ohashi, winner of both the 200 and 400 IM at this meet, added a second-place finish of 57.94.
Kosuke Hagino added to his 200 IM victory with a top showing in the 200 back. Hagino posted a first-place finish of 1:57.18 to win the final by close to two full seconds.
14-year-old Peng Xuwei of China claimed victory in the women's 200 back with a time of 2:08.50. Peng's best time for 2018 is currently a 2:07.27 from this year's Chinese National Championships.
World Record holder Ippei Watanabe cruised to victory in his signature event–the 200 breast. Although he was close to two seconds off his 2:06.67 world record, he handily won the event with a time of 2:08.30. Kashiko Watanabe took home victory on the women's side with a 2:22.88.
Koi Kobori was the only athlete to post a sub-52 second swim in the men's 100 fly, touching first with a time of 51.90.
Australia's Jessica Ashwood won the women's 1500 free with a final time of 16:22.17, while Yukimi Moriyama finished second overall with a 16:25.67.
Takeda Negoro topped the men's 800 free field with a time of 7:55.95.