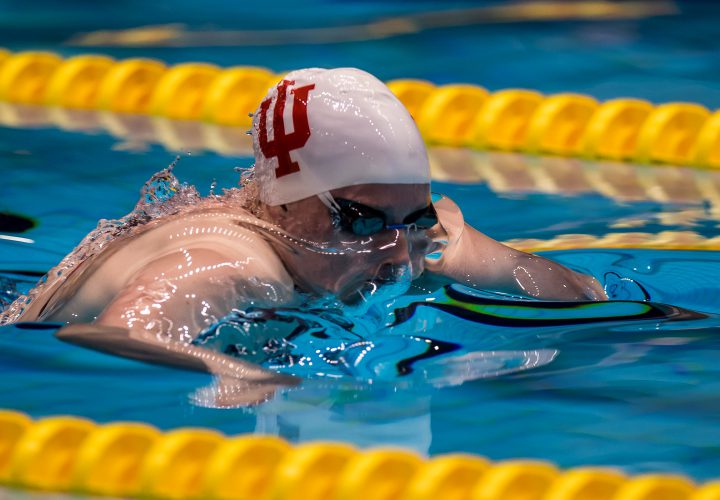 Photo Courtesy: Peter H. Bick
The Indiana Hoosiers got the Big Ten Championships started just narrowly missing the NCAA and American Records in the 200 medley relay. Ali Rockett (23.63), Lilly King (25.84), Christie Jensen (22.67) and Grace Haskett (22.02) won the Big Ten title with a 1:34.16. That swim narrowly missed Cal's record from last year of 1:34.10 and Stanford's American Record from 2016 of 1:34.15.
Stanford's American Record of 1:34.15 was set at Pac-12's in 2016 with Ally Howe (23.62), Sarah Haase (26.20), Janet Hu (22.82) and Lia Neal (21.51). The NCAA record was set at NCAA's last year of 1:34.10 by Cal who had two international swimmers on the relay. Kathleen Baker (23.62), Abbey Weitzeil (26.67), Noemie Thomas (22.70) and Farida Osman (21.11) swam for Cal last year and will hang on to the record for another day.
Minnesota (1:35.06) and Ohio State (1:35.51) finished second and third. Michigan was disqualified in the race, and that puts a damper on their title defense.
UPDATE:
Ohio State was originally third in the race but coaches and officials had a meeting this morning in Columbus about a possible missed disqualification. Upon further review, Ohio State's breaststroker Hanna Gresser had a -0.09 reaction time, which was worse than Michigan's Daria Pyshnenko's -0.06 early takeover.
The results and team scores have been updated to reflect the change.
 Event 1  Women 200 Yard Medley Relay
==================================================================================
     B1G Meet: @ 1:34.16  2/14/2018 Indiana University, Indiana-IN
                          A Rockett, L King, C Jensen, G Haskett
         Pool: # 1:34.16  2/14/2018 Indiana University, Indiana-IN
                          A Rockett, L King, C Jensen, G Haskett
                 1:36.89  A NCAA Qualifying
                 1:37.51  B NCAA Provisional
    School                           Seed     Finals       Points 
==================================================================================
  1 Indiana                       1:34.58    1:34.16@A       64  
     1) Rockett, Alexandra SR         2) r:0.35 King, Lillia JR       
     3) r:0.34 Jensen, Christine JR   4) r:0.46 Haskett, Grace FR     
    r:+0.70  12.02        23.63 (23.63)
          35.38 (11.75)       49.47 (25.84)
          59.63 (10.16)     1:12.14 (22.67)
        1:22.53 (10.39)     1:34.16 (22.02)
  2 Minnesota                     1:37.56    1:35.06 A       56  
     1) Waddell, Tevyn SO             2) r:0.11 Kozelsky, Lindsey SO  
     3) Nack, Danielle SR             4) r:0.30 Avestruz, Zoe JR      
    r:+0.56  12.21        24.57 (24.57)
          36.21 (11.64)       34.97 (10.40)
                            1:13.29 (38.32)
        1:23.74 (10.45)     1:35.06 (21.77)
  3 Wisconsin                     1:37.14    1:36.23 A       54  
     1) Unicomb, Jessica JR           2) r:0.27 Berg, Marissa SR      
     3) r:0.39 Nelson, Elizabeth SO   4) r:0.18 Sehmann, Emmy JR      
    r:+0.58  12.06        24.34 (24.34)
          36.44 (12.10)       51.51 (27.17)
        1:01.88 (10.37)     1:14.67 (23.16)
        1:24.73 (10.06)     1:36.23 (21.56)
  4 Purdue                        1:39.48    1:37.83         52  
     1) Smailis, Jacklyn JR           2) r:0.23 Phee, Jinq En SO      
     3) r:0.08 Kitchel, Taite JR      4) r:0.14 Auckley, Danielle JR  
    r:+0.64  12.39        24.91 (24.91)
           26.28 (1.37)       52.09 (27.18)
           56.10 (4.01)     1:15.59 (23.50)
            1:06.23 ( )     1:37.83 (22.24)
  5 Northwestern                  1:39.80    1:38.44         50  
     1) Sheridan, Calypso FR          2) r:-0.02 Angus, Sophie FR     
     3) r:0.19 Lebl, Ilektra FR       4) r:0.18 Warren, Mary SR       
    r:+0.63  12.24        24.88 (24.88)
          36.88 (12.00)       52.06 (27.18)
        1:02.72 (10.66)     1:16.24 (24.18)
        1:26.79 (10.55)     1:38.44 (22.20)
  6 Penn St                       1:41.10    1:38.80         48  
     1) Hart, Madison SO              2) r:0.60 Cooke, Madeleine FR   
     3) r:0.04 Price, Nicole SR       4) Kuhn, Katrina JR             
             12.46        24.75 (24.75)
          37.03 (12.28)       52.69 (27.94)
        1:03.18 (10.49)     1:16.31 (23.62)
        1:27.03 (10.72)     1:38.80 (22.49)
  7 Iowa                          1:41.85    1:39.26         46  
     1) Jekel, Johanna SR             2) r:0.55 Hoyt, Shea SR         
     3) r:0.23 Hackett, Meghan SO     4) r:0.25 Scheitlin, Mekenna SR 
             12.36        25.01 (25.01)
          37.59 (12.58)       52.80 (27.79)
        1:03.64 (10.84)     1:16.87 (24.07)
        1:27.44 (10.57)     1:39.26 (22.39)
  8 Nebraska                      1:40.71    1:39.43         44  
     1) Haebig, Autumn FR             2) r:0.32 Worlton, Gwendolyn SO 
     3) r:0.22 Murray, Isabelle FR    4) r:0.17 Helferich, Lindsay JR 
    r:+0.64  12.15        24.54 (24.54)
          37.18 (12.64)       52.57 (28.03)
        1:03.57 (11.00)     1:16.89 (24.32)
        1:27.45 (10.56)     1:39.43 (22.54)