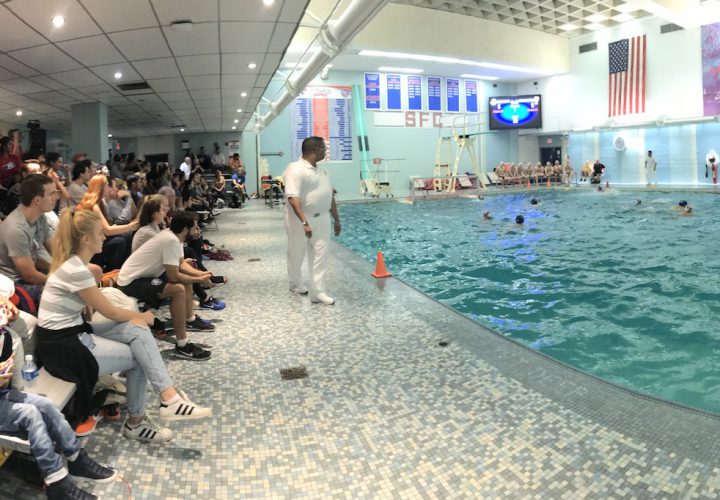 On the St. Francis Brooklyn pool deck. Photo Courtesy: James Chang
By Michael Randazzo, Swimming World Contributor
BROOKLYN, NY. It was a throwback Wednesday night at the St. Francis Brooklyn pool, as Terriers from championships past—including five members of the last squad to qualify for an NCAA Men's Water Polo Tournament—returned to Brooklyn Heights for a marquee match-up with #11 Princeton, the East's top team.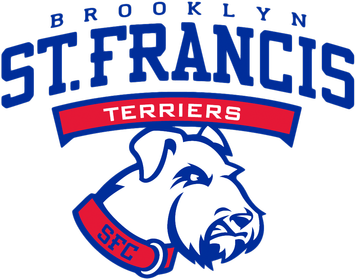 The former St. Francis greats, along with a raucous crowd jam-packed onto the school's claustrophobic pool deck, were amply rewarded for their devotion. The host Terriers broke open a tie game with two goals early in the fourth quarter on their way to a 13-10 victory over the Tigers.
With the win—its seventh straight—#12 St. Francis (7-5, 5-0 NWPC) takes sole possession of first place in the Northeast Water Polo Conference over Princeton (13-5; 4-1 NWPC)
Rookie head coach Bora Dimitrov was understandably excited by his team's performance in its biggest test of the young season.
"Our guys performed amazingly in the second half," he said immediately after the match. "Whoever we're playing, our team looks at it that we just have to find a way to win."
St. Francis was led by three goals apiece from Bogdan Kostic and Botond Kadar, with each delivering a spectacular goal at a critical moment. With his team nursing a one-goal lead in the fourth quarter, Kostic coiled up like a spring after an ordinary foul and delivered a six-meter blast past Tiger goalie Vojislav Mitrovic to double the Terrier lead.
Then it was Kadar's turn to shine. With three and a half minutes remaining and the visitors playing a man down, the sophomore from Hungary netted a leaning three-meter shot that eluded a screened Mitrovic, giving the Terriers an insurmountable three-goal advantage.
For Princeton head coach Luis Nicolao, the trip to Brooklyn to face St. Francis in a shallow/deep pool was memorable for all the wrong reasons.
"It's a tough environment to play in, and we didn't make some chances early on," said Nicolao. "We gave up five goals in the first quarter and it was a battle from there."
"We played well in the second half but just couldn't finish shots," he added.
The Tigers were led by Jordan Colina's game-high four goals and three from Sean Duncan, all of which came in the first period, an offensive explosion of five goals from each side. Predictably, the rival coaches reacted differently to the game's opening minutes.
"The first quarter was brilliant," said Dimitrov. "It's been a long time since I've seen such good water polo. Ten goals scored in one quarter. That doesn't happen too often."
The visitors were initially able to exploit the Terriers lack of size, with Duncan dominating in the whole set. At the other end, host St. Francis took advantage of their pool's shallowness to rifle in five shots against a defenseless Mitrovic.
"Defense is all about effort," said an exasperated Nicolao. "In that first quarter we gave up three goals because of a lack of effort."
The second period presented a clear contrast to the first, as the Terriers double-teamed Duncan, limiting his scoring opportunities. The goalies also found their footing, with Mitrovic (10 saves) and Finn Doerries of St. Francis trading impressive saves. Doerries yielded a goal to Princeton's Matt Payne while Mitrovic surrendered scores to Boris Posavec and Alexander Teplitsky.
Doerries, a freshman from Germany, finished with 16 saves, frustrating the Tigers and Payne in particular. Princeton's #3 scorer was limited to a lone goal and—following his third exclusion midway through the third period—was done early for the evening.
"Finn played brilliantly tonight," his coach said. "He's determined to push this season to success."
He has so far, backing St. Francis to five wins during its current streak. With his team in contention for an NCAA berth for the first time in four years, Dimitrov emphasized that winning is solely the result of his players' effort.
"It's not me, it's the guys," he said. "I'm making sure they're physically and mentally there. When the game comes on it's all them."
In the pivotal fourth, the Tigers, who earlier in the day beat Iona 12-6 in New Rochelle, appeared to run out of the gas. The well-rested Terriers, who hadn't played since a 13-11 win over Harvard more than a week ago, scored the quarter's first three goals to take an 11-8 lead, then withstood late goals by Logan MacDonell and Colina to equal last season's conference win total.
A key observer, who over the past decade has helped direct the Terriers' rise to national prominence, was on hand to complement their current success.
"I'm really proud of our men, our coaches and our fans who always come out to support us," said Irma Garcia, who as the St. Francis Brooklyn Athletic Director since 2007 has seen the program earn NCAA Final Four berths in 2010, 2012 and 2013.
"It's always a great match any time we play Princeton," she added. "Credit them for keeping us on our toes—tippy-toes in the shallow end."
Despite a disappointing setback, the Tigers' coach knows there's plent of polo left to play, including the Harvard Invitational this weekend in Cambridge and a rematch between the two teams November 4 in Princeton's spacious DeNunzio Pool.
"It's October," Nicolao said. "We'll be alright."