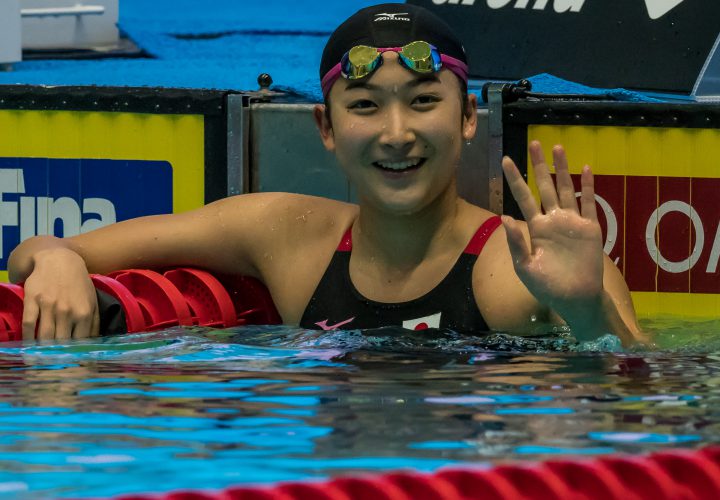 Photo Courtesy: Peter H. Bick
The 2018 Japan Open started off in Tokyo today, with the meet presenting the second opportunity for Japanese swimmers to qualify for their country's roster for this summer's Pan Pacific Championships. The first round of that qualifying was back in April at the 2018 Japan Swim, an event that saw 22 athletes qualify already for the Games.
In a twist of events right before the meet, Olympian and 2009 World Champion Junya Koga tested positive for a banned substance just before the start of these trials, leaving him ineligible for the Japan Open and any international meets this summer.
Day One Events

Men's 100 Free
Men's 100 Breast
Women's 100 Breast
Men's 50 Fly
Women's 50 Fly
Men's 400 IM
Women's 400 Free
Men's 100 Free
Shinri Shioura – 48.93

Mizohata Juran – 49.21

Katsuhiro Matsumoto – 49.28
Shinri Shioura dashed to a first-place finish in the men's 100 free. Shioura posted a final time of 48.93 to be the only swimmer beneath the 49-second mark.
Men's 100 Breast
Yan Zibei – 59.46

Yasuhiro Koseki – 59.48
Ippei Watanabe – 59.78
Chinese swimmer Yan Zeibei narrowly won this event over Yasuhiro Koseki, 59.46 to 59.48. World record holder in the 200 breaststroke, Ippei Watanabe, also made it onto the podium with a third place finish in 59.78.
Women's 100 Breast
Reona Aoki – 1:06.65

Satomi Suzuki – 1:06.66

Kanako Watanabe – 1:06.72
23-year-old Reona Aoki came out on top of what was an incredibly close final in the women's 100 breaststroke, just edging out second place finisher Satomi Suzuki by .01 of a second. In third was Kanako Watanabe, the 2015 World Champion in the 200 breaststroke.
Men's 50 Fly
Nakao Shuichi- 23.47

Kengo Ida – 23.53

Miura Shin – 23.88
Nakao Shuichi took the top spot in the men's 50 fly with a 23.47 that was just .07 off of the national record in the event. He was followed closely by Kengo Ida, who holds the current national record of 23.40.
Women's 50 Fly
Rikako Ikee – 25.25 (NR)

Yukina Hirayama – 26.28

Ai Souma – 26.42
Teen sprint sensation, Rikako Ikee, flew to a new Japanese National Record in finals of the women's 50 fly. The 17-year-old lowered her own record of 25.43, set this past April, to a time of 25.25. Ikee's time edges her closer and closer to Sweden's Sarah Sjostrom, who currently holds the world's best time for 2018 at a 25.07.
Men's 400 IM
Daiya Seto – 4:08.98

Tomoya Takeuchi – 4:14.40

Kosuke Hagino – 4:14.77
World champion Daiya Seto blew away the field in the men's 400 IM as the only competitor under 4:10, besting the field by nearly 5 seconds. Notably, Kosuke Hagino, the 2016 Olympic gold medalist in this event, finished third here in 4:14.77.
Women's 400 Free
Chihiro Igarashi – 4:09.74

Kobori Yonedo – 4:10.35

Goto Mayuko – 4:11.29