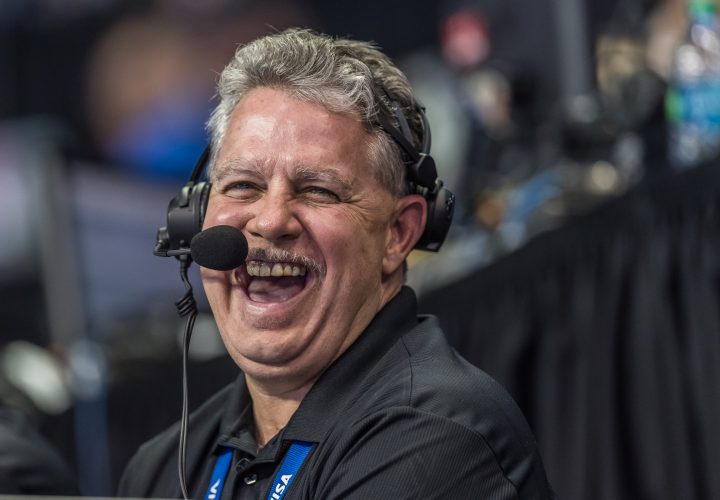 Photo Courtesy: Peter H. Bick
By Alec Scott, Swimming World College Intern
In 1983 University of Texas men's swimming coach Eddie Reese walked up to student assistant Sam Kendricks hours before the biggest dual meet of the college swimming season and said, "Hey Sam, you're going to announce the meet today."
Legendary Texas all-sports announcer Wally Pryor; who swam for Texas in the 50s, was under the weather and wasn't going to be able to make it to the meet. It was a dual meet between three championship teams. The Texas men won the NCAA championship in 1981, UCLA won it in 1982, and Florida would go on to win it in 1983.
"Go call the meet, do your best, and don't be a homer." Reese said.
Texas went on to dominate the meet, and despite getting on the nerves of Florida head coach Randy Reese, Kendricks went on to periodically call meets after that.
Kendricks grew up in Irving, Texas between Dallas and Fort Worth.
"My mom was a single parent raising my brother and I," Kendricks said. "We certainly weren't poor by any means but we had to scrape by a bit."
By his own admission he was somewhat of a late-bloomer in the sport of swimming. He got his start in the sport through some difficult circumstances. Growing up in Texas he loved football and got really into the sport as kid, until, at age 11, he came down with a case of spinal meningitis.
"I don't want to say I was at death's door but I was in pretty bad shape there for a couple weeks," Kendricks said. "Coming out of that the doctors told my mom, 'no more contact sports.'"
Kendricks and his brother already spent a lot of time around the pool in the summer and some local kids talking smack is ultimately what got him to try out competitive swimming. A local coach told his mom he had some ability and she used that as a springboard to get him and his brother into swimming.
Collegiate swimming was not on Kendricks' radar until he won the opportunity to attend the University of Texas swim camp by raising the most money in his club team's swim-a-thon. As it turns out that was coach Reese's first session of camp in Austin after his arrival from Auburn. Kendricks and about 20 other kids were part of the first two-week session of the Longhorn swim camp.
"I came home to my mom and I said 'I think I know what I want to do, I think I'd like to coach,''' Kendricks said. "Eddie Reese and these people down there in Austin they're transformative. They taught me some things and opened my eyes to the sport in a way that nobody here in Dallas has."
Kendricks worked his way through high school hoping to get some academic scholarships and get back to Austin. He never put too much thought into swimming in college, he just wanted to be around the program.
"I reached out to Eddie probably about the beginning of my senior year in high school and basically asked him for an opportunity," Kendricks said. "I said I had been accepted at Texas and if he was willing to let me I'd do anything he wanted me to do, but I'd like to start working with the program and learning what being a coach is all about."
Reese responded by telling him that if he could get into school he would find a place for Kendricks with the managerial staff and they would get him started with that. Kendricks arrived in Austin with the ambiguous instruction to look Coach Reese up. He didn't know anyone in the program and didn't really know what to expect or what was going on. He walked into Reese's office and was met with a question he never expected.
"When was the last time you were in the water training hard?" Reese said. "March," Kendricks responded. "Well you always had pretty good technique, pretty good skill, why don't you try walking on?" Reese said.
Kendricks' heart sank, looking back on a summer spent lifeguarding and doing other work to try to save up money for school and get through his senior year, he knew he wasn't ready to swim with these guys. He had been around the pool but had not done any kind of real training.
"Without thinking about the consequences I said, 'yes sir I'll do that.'"
Texas was one of the top programs in the country at the time. And Kendricks battled through workouts with some of the best athletes in the country as best he could.
"I never made an interval, I never made a repeat. I couldn't even keep up with these guys in warm up," Kendricks said. "I spent the first six or seven weeks on campus grinding through workouts learning about what these guys were doing, trying to get in shape."
He slept through classes and fought his way through afternoon workouts. Eventually the grueling routine took a toll on life outside of the pool. He was worried he wasn't going to make it out of the semester academically. He went to coach Reese and told him he had to get his grades up and he didn't know what to do. Coach told him to come to his office, he wanted to talk.
"Sam, real simply, my goal for you was not to swim. But if you're going to begin working with these guys and you're going to be working with people at this level, and you have no experience at this level it's going to be hard for you to understand what they're going through. You've gotta have some concept of what they're feeling, so I had to give you some of that," Reese said. "Honestly I wish you had been training, it would have been better all the way around and who knows what might've happened. But do me a favor, get your grades up and don't come back until they are good enough to get you through the semester. When you do that, we'll have a spot for you on the staff."
Kendricks went on to coach under Reese for five years from 1980-85 and on Richard Quick's staff at Auburn from 1985-87, and then coached club in Arkansas before retiring from coaching in 1995.
He got back into announcing by chance. Some of Kendricks' club swimming colleagues in Arkansas had heard he used to announce some meets and asked him to come back and announce their summer invite. He hadn't seen those people in a few months so he agreed to go back and announce the meet but mostly just have fun and reminisce with old friends.
"When I got to the meet I realized I knew everybody on deck on a first name basis," Kendricks said. "I knew all the kids, all the coaches, and all the parents. So I thought if I'm going to go do this, if I'm going to sit through three days of 100 degree weather, I'm going to have some fun doing it. So I just kinda cut it loose and had fun with those people."
Within a week his phone blew up with club coaches from all over who had been at the meet asking if he would come to announce their meet. Less than a year later he got a call from USA Swimming Assistant Executive Director Mike Unger asking if he wanted to come announce nationals. He accepted, and his first nationals was Minneapolis in 1997. He has been announcing at the national level ever since.
"I never intended for swimming to be what it's been in my life, much less announcing as well, but that's my story, that's my path," Kendricks said.
If you've ever been to a meet or even watched a webcast with Kendricks announcing you have undoubtedly heard his trademarked call to action, "Come on folks, let's get 'em home!" He picked this up during his time coaching under Quick at Auburn.
"One of the thing's Richard would do, is you would always hear him screaming from across the pool 'GET HOME! GET HOME!'" Kendricks said. "He would turn to the team and say, 'come on, get 'em home."
That kind of intensity is not something Kendricks brings to announcing himself. But he has always remembered that kind of passion fondly and tries his best to instill that into the crowd with the classic, "come on folks, let's get these guys home!"
"Every once in a while we can put together a moment with the crowd that is special," Kendricks said. "But those moments are special because of what the athletes accomplish."
Of all the meets Kendricks announces, Junior Nationals is one of his favorites because of the impact that it can have on the future of the sport. At this past summer Juniors in Minneapolis he was reading results from the 2012 Junior nationals and pointing to people who made the 2016 Olympic team and how they fared in that meet. The message was simple, some kids on the deck at that Junior national championships in Minneapolis are going to make the Tokyo Olympic team in 2020 it is just a question of who. And it may be some of the kids you never saw coming.
"The whole purpose of Juniors in my eyes is to elevate young people and show them that juniors is just a jumping-off point and anything is possible from there," Kendricks said. "If a few kids walk away with that message then I've done my job."
All commentaries are the opinion of the author and do not necessarily reflect the views of Swimming World Magazine nor its staff.