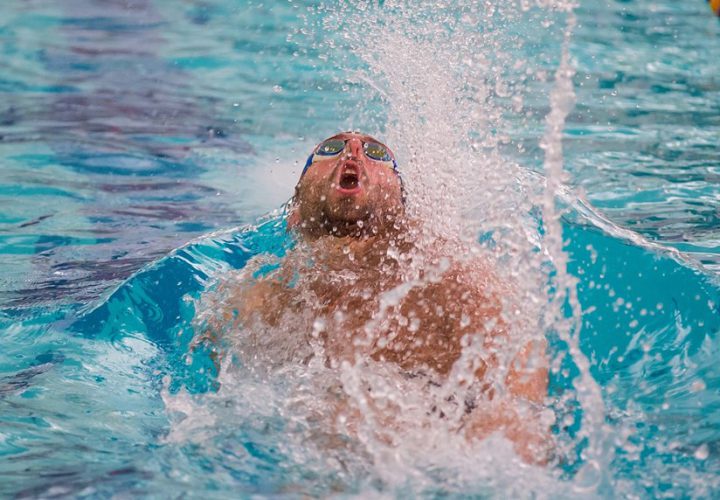 Photo Courtesy: East Carolina Athletics
The Houston women and the East Carolina men won the 2017 American Athletic Conference swimming and diving Championships.
2017 American Athletic Day 4 Finals – Results
Connecticut's Emma Smith dropped 33 seconds from her seed time to win gold in the women's mile. The sophomore stopped the clock in 16:19.90, breaking the meet record by 11 seconds. East Carolina's Marion Abert took second in 16:25.33 and Cincinnati's Sara Wanasek finished third in 16:31.83.
Cincinnati's Christopher Bready broke his own meet record set last year in the men's mile by ten seconds. The junior finished in a time of 15:00.79. Connecticut's Karl Bishop finished second in 15:02.00 and Cincinnati's Din Selmanovic took third in 15:06.16.
Southern Methodist's Brooke Pospicha won the women's platform diving with a final score of 235.75. Houston's Mchaela Bouter took second with 213.00 points while teammate Katelyn Abernathy finished third with 202.80 points.
Southern Methodist's Matea Samardzic dominated the women's 200 back, winning by over three seconds. The junior finished with a time of 1:52.69, break the pool and meet record. Houston's Eleanna Koutsouveli took second in 1:55.97 and Cincinnati's Natalie Obando finished third in 1:57.14.
Connecticut's Will Kearsey won the men's 200 back to conclude his successful first conference meet. The freshman won in 1:43.99. Souther Methodist's Bartosz Krzyzan took second in 1:45.74 and East Carolina's Fran Krznaric swam to third in 1:45.92.
Cincinnati's Jacqueline Keire continued her dominant weekend by winning the women's 100 free. The senior posted a time of 47.95 to break her own meet record from 2015. Southern Methodist's Vicky Cunningham took second in 48.79 and Houston's Ksenia Yuskova finished third in 49.93.
East Carolina's John Myhre won a close men's 100 free final, winning in 44.00. Southern Methodist's Ziga Cerkovnik took second in 44.37 and East Carolina's Maxime Cadiat swam to third in 44.61.
East Carolina's Vendetta Norrman cruised to a win by over two seconds in the women's 200 breast. The junior won the race in 2:10.28, only two tenths off the meet record. Houston's Victoria Roubique touched second in 2:12.50 followed closely by Southern Methodist's Tara Nicholas in 2:12.56.
Southern Methodist's Ronen Faur won the men's 200 breast in 1:56.21. East Carolina's Erle Craven took second in 1:56.81 and Connecticut's Mark Hunter took third in 1:58.27.
Southern Methodist's Marne Erasmus concluded her successful weekend with a win by over a second in the women's 200 fly. The senior posted a time of 1:57.36 for the win. Her teammate Anna Cheesebrough took second in 1:58.79 and East Carolina's Julie Lajoie in 1:59.56.
Southern Methodist's Jonathan Gomez dominated the men's 200 fly, finishing seven seconds ahead of the field. He touched the wall in a time of 1:41.98, crushing the meet record by three seconds. East Carolina's Blaz Demsar took second in 1:48.41 and Southern Methodist's Szymon Golczyk took third in 1:48.70.
Connecticut's Spencer Beaulieu won the men's platform diving event, posting a score of 246.45. Southern Methodist's Bryce Klein dove to second with 237.45 points and Cincinnati's Louie Hunt finished third with 229.10 points.
Southern Methodist's Adri Santa (50.01), Hannah Rogers (51.40), Matea Samardzic (49.30), and Vicky Cunningham (48.14) won the women's 400 free relay in a time of 3:18.85.
East Carolina's Victor Martins Dos Santos (44.46), Maxime Cadiat (44.22), Fran Krznaric (44.26), and John Myhre (43.75) narrowly won the men's 400 free relay in 2:56.69 to conclude the meet.
Women's Team Scores:
1. Houston-772
2. Southern Methodist-676
3. Cincinnati-625
4. East Carolina-473
5. Connecticut-460
6. Tulane-395
Men's Team Scores:
1. East Carolina-901
2. Southern Methodist-764.5
3. Cincinnati-760
4. Connecticut-634.5