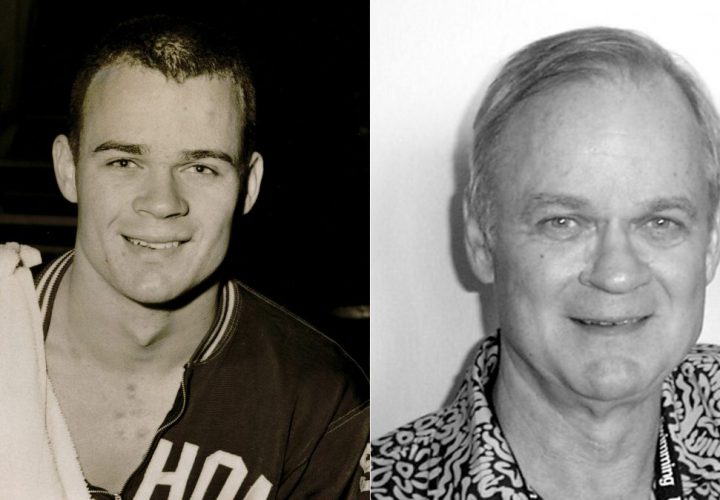 Jeff Farrell on top again.
Photo Courtesy: ISHOF Archives - Jeff Farrell
By Bruce Wigo
The fires that have forced him to evacuate his home in Monticito, California be damned. He's back!. Sixty-seven years after setting his first world record, he's set another.  This time in the 50m (SC) freestyle, in the 80 – 84 age group.  Earlier this month, with a time of 31.25, Jeff Farrell smashed the FINA World record for his age group by .49 seconds. Back when SC yards were also recognized as world records, Jeff broke the WR in the 100 yards event with a time of  48.2 seconds.
Of course a lot has changed in swimming over the past 60 years.  Goggles, no hand-touch turn rules, underwater, stroke mechanics, training and breathing. Jeff has kept up with them all. "I don't breath now in a fifty," he says. That was something unthinkable back then.  Jeff credits swimming and not retiring from the real estate business with fending off the effects of old age.
Back in 1960, Jeff was favored to win three Olympic gold medals in Rome.  But six days before the start of the Olympic Swimming Trials, Jeff  was stricken with appendicitis. The recovery time after an operation of this type was typically six weeks in those days. Jeff tells about his bad luck and amazing recovery in his autobiography, My Olympic Story.  A terrific read, it is not just Jeff's story but the story of an era that laid the foundation for American swimming today.   https://www.amazon.com/My-Olympic-Story-Rome-1960/dp/069227619X
"In the long history of American Swimming," said Olympic documentarian Bud Greenspan,  "Jeff's story stands above the rest for courage and ability to endure."
In this photo, taken just before the start of preliminaries of the 100 free,at the Olympic Trials, Jeff adjusts the bandage covering his appendix incision. He is conferring with Ray Daughters, the Chairman of Men's Swimming who was concerned for Jeff's health and offered to let him swim off against the 4th fastest man on the 4 x 200 free relay before the team left for Rome. Because Jeff felt this would be unfair, he declined the offer.  After getting through the preliminaries and semi-finals, Jeff finished 3rd in the finals by 1/10th of a second and failed to make the team in his best event.  But in his last chance to qualify, he finished 4th in the 200 free to earn his spot on the relay. He would later win a swim off for the final leg of the 4×100 meter medley relay and left Rome with two Olympic gold medals.
After serving in the Navy and living abroad for many years, Jeff and his wife Gabrielle located in Monticito, CA to raise their family.  Jeff returned to swimming via USA Masters in 1980 and has held the fastest national times in his age group in dozens of events over past decades. Twenty years ago, swimming in the 60-64 he set an American record in the 50y, (SC) in the time of 23.28 seconds, which was only .68 of a second slower than his world class 22.50 in 1960.  In 2010 world-renown photographer Peter Hapak shot Jeff for ESPN's "The Body" issue.
http://www.espn.com/espn/photos/gallery/_/id/7030505/image/11/jeff-farrell-bodies-want-2010#
Jeff retired from Masters competition in 2011 to devote time to write his autobiography and spend more time with his family, but he continued to swim recreationally before making his latest comeback to competition.
Jeff was inducted into the International Swimming Hall of Fame in 1968 as an honor swimmer, and the International Masters Swimming Hall of Fame in 2011. He is the only swimmer to be inducted in both recognition categories.