Heinz Kluetmeier Becomes First Photographer Inducted into the International Swimming Hall of Fame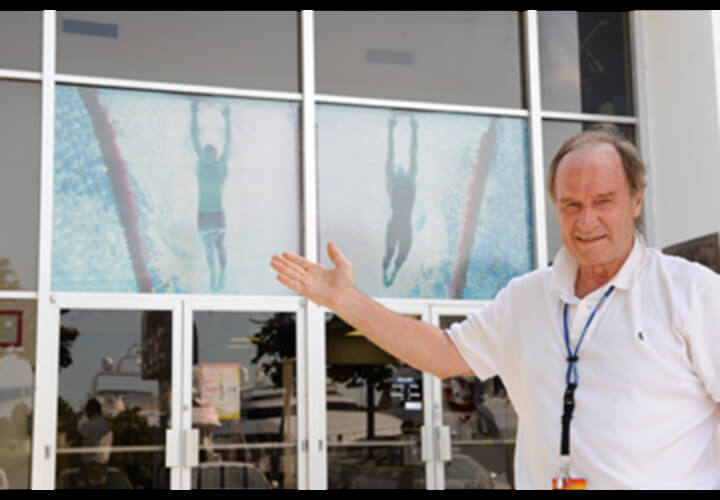 Left Sidebar
The International Swimming Hall of Fame (ISHOF) announced today that legendary Sports Illustrated photographer Heinz Kluetmeier will become one of seventeen (17) honorees to enter the International Swimming Hall of Fame as the Class of 2017. Kluetmeier is the fourth individual to be named for ceremonies to be held August 25-27, in Fort Lauderdale. Previously, swimmer Wu Chuanyu (CHN), diver Zhang Xiunel (CHN) and long distance swimmer Walter Poenisch (USA) have been announced. Kluetmeier will enter the Hall of Fame in the contributor category and will become the first photographer/photo journalist to be so honored.
Heinz Kluetmeier was born in Berlin, Germany before moving to Milwaukee, Wisconsin. He started his photo career early on, photographing professional football games in Green Bay, Wisconsin for the Associated Press at the age of 16. Upon his high school graduation, the AP offered him a full time job as a photographer, but his education took precedence. After a brief stint as engineer following graduation from Dartmouth College and as a staff photographer for the Milwaukee Journal, he was hired by Time, Inc., working for LIFE Magazine and Sports Illustrated until 1973, when LIFE magazine ceased as a weekly and worked full time for Sports Illustrated until 2014. He has shot over 125 covers for Sports Illustrated and twice served as the magazine's director of photography.
While he has shot virtually every sport and has covered every Olympic Games, winter and summer except one since 1972, he, as a swimmer in high school, has always had a special affinity for the aquatic sports and photos of aquatic athletes are among his favorites.
In 1988, Heinz donated his time and original photography to raise money for USA Swimming through a tabletop book, Swimming: A Collection of Photographs by Heinz Kluetmeier, Commemorating One Hundred Years of Amateur Swimming in America. A pioneer in underwater photography, he was the first to experiment with an underwater camera at international competitions during the 1991 FINA World Championship in Perth. The next year he became the first photographer to place a camera underwater to capture an Olympic swimming event, in Barcelona.
Sixteen years later, he operated a remote underwater camera that landed the signature image of the Beijing Olympic Games: Michael Phelp's "Miracle Finish" in the men's 100 meter butterfly race – frame by frame. The photographs in sequence showed Michael Phelps touching the wall before Milorad Cavic, even as Cavic appeared to win from above the water. The photo defined a moment in time that a lot of people did not believe. People don't trust things they cannot see and with his photos, people were able to see it and trust the electronic timing system.
In a career spanning almost fifty years, Heinz Kluetmeier's pictures have virtually defined what great sports photography is all about. He has photographed every great swimmer from Mark Spitz to Michael Phelps and a collection of his photos will be featured in a special exhibit on the history of swimming through photography that will make its debut during ISHOF's induction weekend in August.
This slideshow requires JavaScript.
About ISHOF
The International Hall of Fame, established in 1965, is a not-for-profit educational organization located in Fort Lauderdale, Florida. Its mission is to promote the benefits and importance of swimming as a key to fitness, good health, quality of life, and the water safety of all adults and children. It accomplishes this through operation of the International Swimming Hall of Fame, a dynamic shrine dedicated to preserving the history of swimming, the memory and recognition of the famous swimmers, divers, water polo players, synchronized swimmers and people involved in life saving activities and education whose lives and accomplishments inspire, educate, and provide role models for people around the world. For more information contact Bruce Wigo at 954-462-6536 ext. 201, or by email bwigo@ishof.org.