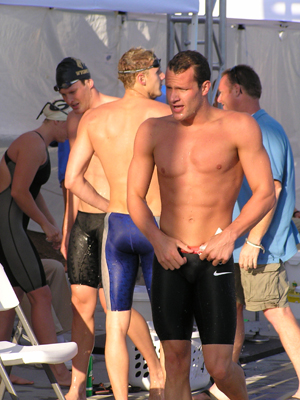 By John Lohn
CRANBURY, New Jersey, August 31. THE two-year countdown to the 2008 Olympic Games in Beijing began earlier this month, quietly and without fanfare from the majority of the world. The Chinese proclaimed a smooth preparation process, a positive development considering the many woes — logistical, construction and security — that plagued Athens in the leadup to the 2004 Games.
In 24 months, the Great Wall and Tiananmen Square will be regular sites during Olympic coverage, much like the Acropolis served as a backdrop in Athens. Until then, the Beijing Games will approach in tiptoe fashion.
Well, except for the athletes seeking that every-fourth-year success that can define a career. Each day is precious, a stepping stone toward fulfilling a lifelong dream. One slip-up can be disastrous. Bad luck can be damning.
Brendan Hansen knows the routine, having been through it once and, now, in the middle of a second go-round. On August 5, less than five minutes after breaking his second world record of the United States National Championships at the William Woollett Aquatic Center, Hansen referenced the next Olympiad. He's done that only a handful of times since Athens, where he won a medal of each color. Until now, there hasn't been much reason to discuss Beijing, not with the Games so far away.
But, in the context of dissecting his world-record swim in the 200 breaststroke, Hansen made it known where his focus rests. All along, he has been thinking long-term.
"There are some little things I can do better," Hansen said. "We'll just keep working toward 2008."
Like there was any doubt. Less than two weeks after his starring role at Nationals, Hansen again grabbed the spotlight at the Pan Pacific Championships in Victoria, British Columbia. He is a contender for World Swimmer of the Year, a battle that basically comes down to the University of Texas graduate and Michael Phelps. Hansen is having a year that couldn't be designed any better on paper.
Before Hansen spent the first five days of August in Irvine, Calif., his finest exploits arrived about a 30-minute drive north on the 405. When he arrived at the 2004 Olympic Trials in Long Beach, Hansen was the heavy favorite to earn berths to Greece in the 100 and 200 breaststroke events. By the time he was done, he had world records in both races and an enhanced profile.
Two years later, Hansen has risen to another level, hardly an easy feat considering the spectacular nature of his past accomplishments. Usually, world-record swims cut the littlest of time off former standards, a hundredth here and a hundredth there. Hansen, though, removes chunks. En route to his 59.13 outing in the 100 breast at Nationals, Hansen lopped .17 off his world record. Four days later, he took the 200 breast world record under 2:09 for the first time, as his 2:08.74 slashed .30 off the old mark.
Obviously not satisfied, Hansen went back to work at Pan Pacs and took the 200 breast global standard even lower. Again, Hansen didn't waste his time with hundredths. Reversing his strategy from Nationals, Hansen eased off the accelerator – slightly – during the first two laps, only to slam the pedal during the closing 100 meters. The maneuver led to a clocking of 2:08.50 and a rout of his rival, Japan's Kosuke Kitajima.
The only world-record setter at Nationals, Hansen was in high demand throughout the week, the focus of the assembled media. While several title-winners cut their interviews short in order to warm down, Hansen was an engaging subject who spoke at length, mixing in-depth responses with humor. He signed autographs for close to two hours on an off day.
In the stopwatch sports, most notably swimming and track, one question tends to arise more than most: How much faster can these guys go? Hansen was presented that query in Irvine and didn't hesitate with his answer. The same scenario unfolded in Canada. He firmly believes a 58-second performance is on the horizon for the 100. He feels a 2:07 is attainable for the 200.
"There's more in the tank," he said.
Hansen plans on calling on that reserve gas at next year's World Champs in Melbourne. Then, he'll look to Beijing with an unwavering focus. Really, he's been looking in that direction since his first Games came to a close.
"I'm looking at 2008," he said from Athens, the day after his first Olympiad ended. "I still think I have a lot to prove. This is what I love."