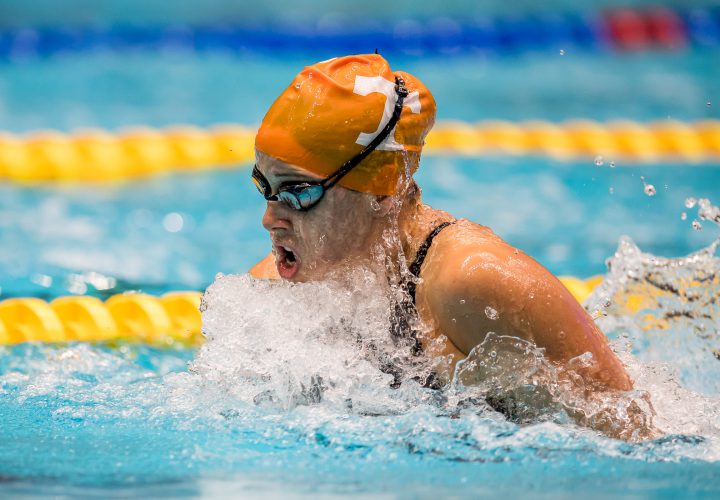 Photo Courtesy: Peter H. Bick
Editorial content for the 2018 TYR Pro Swim Series Mesa is sponsored by SwimOutlet.com. Visit SwimOutlet.com for more information on our sponsor. For full Swimming World coverage, check out our event coverage page.
The women's 50 Breast Knockout featured Morganne McKennan, Tjasa Pintar, Peyton Kondis, Molly Hannis, Breeja Larson, Zoe Bartel, Silja Kansakoski and Mallory Korenwinder.
Hannis sprinted her way to the top of the Quarterfinals in 30.44. The swim is second in the world so far this year, only behind her own swim of 29.71 from Austin. Larson took second in 30.78 while Bartel (31.65) and Kondis (31.79) also earned spots in the semifinals. Larson's race was her first sub-31 swim of the season bumping her into the top ten worldwide rankings.
Kansakoski (32.57), Pintar (32.60), McKennan (32.72) and Korenwinder (32.88) rounded out the heat.
Larson then got her hands on the wall first to win the Semifinals in 30.47, giving her the second best swim in the world so far this year. Hannis was just .03 behind in 30.50 to punch her ticket to the final round. Bartel took third in 31.57 while Kondis was fourth in 31.82.
Hannis then stole back the victory in the Finals, winning in 29.97. Larson lowered her time once again for second in 30.42. The women are now the fastest two 50 breaststrokers in the world so far this year.