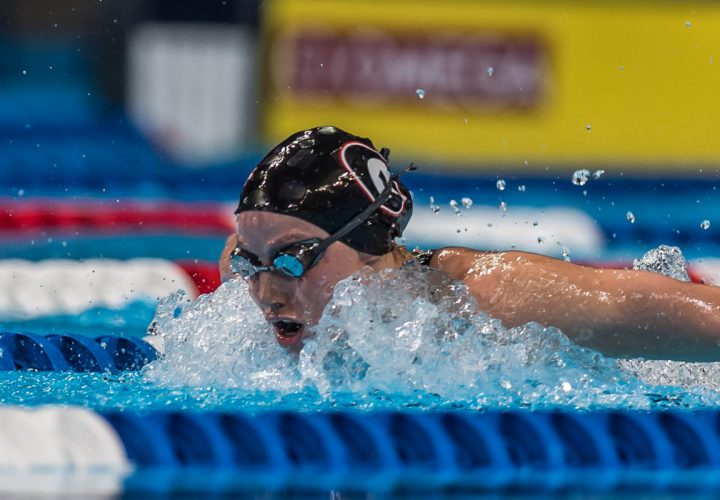 Photo Courtesy: Peter H. Bick
Editorial content for the 2017 Arena Pro Swim Series Indy is sponsored by Arena. Visit ArenaUSA.com for more information on our sponsor. For full Swimming World coverage, check out our event coverage page.
Athens Bulldog's Hali Flickinger took over the lead at the halfway point of the race and then extended her lead from there on her way to a victory. She had to hold off a strong last 50 from Nation's Capital's Cassidy Bayer, pulling into the wall in 2:09.49, not far off her season best of 2:08.77 from the Arena Pro Swim stop in Austin, where she swam a 2:08.77.
Bayer, competing in her first long course meet since the summer after suffering a knee injury, finished second in 2:10.16, good for seventh in the world rankings. Schroeder YMCA's Hannah Saiz finished third in 2:11.32, just ahead of just ahead of Razorback's Taylor Pike (2:11.39).
Great Britain's Emily Large finished fifth in 2:12.76, and rounding out the field were Canada's Katerine Savard (2:13.24), Japan's Ayo Takano (2:13.33) and Cardinal's Kelsi Worrell. (2:13.42).