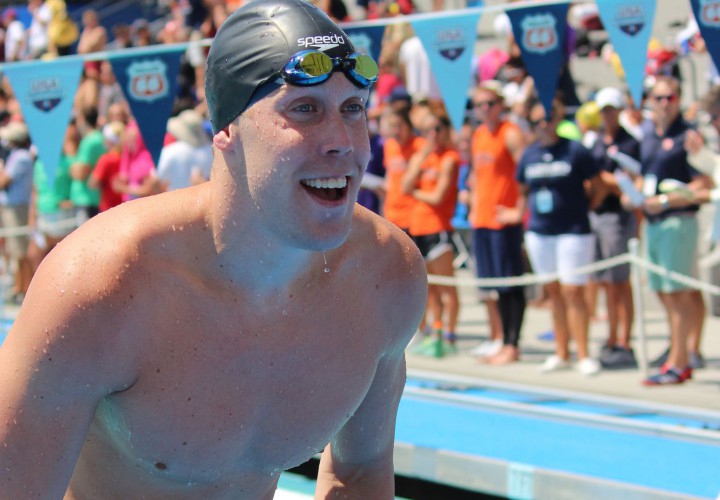 By Nelson Helm, Swimming World College Intern
It was always a getaway, a retreat from the unknown. It was familiar and comfortable.
Brendan McHugh said that swimming was just something that he considered a break from law school—never something that he felt he had to do.
"Swimming is not my job—it is my hobby. I get excited to go to practice," he said. "I would much rather be killing my body than reading Tax Code."
McHugh said that he thinks the motivation to go to practice is because he has never had that plateau that some swimmers have.
"When you keep swimming fast, if you never have that hiccup, you get excited to come to practice. Once you get in the mundane, dragged out 'I have to go back' mindset, you get in a rut."
McHugh trains with the Washington and Lee swim team, which competes in the Old Dominion Athletic Conference in NCAA Division 3. He said he mainly goes to the practices for the cardio work that he doesn't get when he trains by himself.
McHugh said about 50 percent of his training comes outside of the team, where he focuses on kicking and body position, and that doing more of those things have helped him reach the next level in his swimming career.
On the days that McHugh swims alone, he said that the practices are mentally challenging. Like all elite athletes, he has days when he is fully motivated and days when he is not. He said that he has developed "mentally easy" sets for when he needs the yardage.
After garnering All-American honors his senior year for the University of Pennsylvania in 2012, McHugh continued to train for the Olympic Trials. McHugh placed 10th at Trials, going 1:01.04—top eight was 1:00.8 and 1:00.14 made the Olympic team.
"Reflecting back on my career [after trials], I thought I probably could've been the seven tenths faster I needed to be at the Olympics."
McHugh considered deferring law school, which he was supposed to start in August at Washington and Lee University, to try to make the U.S. National team, since many swimmers ahead of him were retiring.
"I was coaching at the time and little kids would come up to me and say 'You almost made the Olympics'," he said. "It was still who I was, even outside of the pool."
But the decision was made for him when he broke his scaphoid—a really small bone in the wrist—while playing basketball. The injury put McHugh in a cast up to his shoulder for six weeks.
McHugh went to Washington and Lee, unfamiliar with the small-town setting of Lexington, Va., or anything about law. Swimming became the constant in his life—the break from the unknown.
"I would just find time to train 4-5 hours and still do 5-6 hours of law school work," he said. "Some days I would put in full days. I would get up early and go to bed early, pretty much just work every second of the day. Between law school and eating, that would be the entire day: 6 a.m.-10 p.m."
When asked why more professional athletes don't get a professional degree, he said it was probably "mental toughness."
"Being an athlete is a grind, and being a lawyer is a grind," he said.
Flash forward to the summer of 2014. McHugh had gone back to train in Philadelphia for the season and he had set his sights on making the National team.
"It was the first time I really trained for anything for more than four weeks in a row since college," he said. "I would have things due, take a couple of days off, have finals, swim every other day for an hour."
McHugh's summer training schedule differed from other top-tier athletes—he also had an internship at one of the leading law firms in the country.
"I didn't sleep much. I practiced before work, there was an opportunity to get up and train every morning," he said. "I would go to work all day and be tired, but then say '"Ok, let's go lift or do the second swim.'"
McHugh also felt that what he did outside of the pool influenced how he swam. He took every opportunity to do anything physical or athletic. McHugh said he would go to the beach and surf for the entire day or go on ocean swims for fun. He called this different approach "training, but not."
McHugh considered the Charlotte Grand Prix this past March his breakthrough meet. McHugh entered finals as the top of the pack in the 50 breaststroke and third in the 100 breaststroke. He said he wanted to attend the meet because he could imagine himself being in the mix with the top tier breaststrokers.
His entire month at home before the meet had been spent swimming, and he was ready to compete..
"It was the first long course opportunity and I knew I was better at long course," McHugh said. "My two brothers were home and we were just training.
"I got excited to do long course for the first time in a real race," he said. "I just wanted to prove to everyone that I still had it."
McHugh would end up placing second and third in the events at the meet.
When McHugh decided to compete at Nationals, his main goal was to win the 50 breaststroke and make the National team. The law student had a feeling that he would win because of how fast he went out at Trials two years previous. It all went back to looking at previous results and imagining where he would have placed.
Real confidence came from a swim before Nationals, unshaved and wearing a brief. McHugh went 27.7 off the block.
"It was kind of a weird confidence that I had that probably no one in the world except for my coaches and I shared. If you would've interviewed me before the 50 breaststroke and asked me if I was going to win, I would've said 'If I lose, I was going to be pissed off.' There would be little empirical data to back that up except for a takeout in the 100 and a couple of practice swims that I had done."
When the event rolled around at Nationals, McHugh shocked everyone, except himself, with his U.S. Open record-setting 27.10. McHugh said historically, he had been able to come back faster at night and thought he could go faster at finals.
Since McHugh had never been in the spotlight like a Michael Phelps or Missy Franklin, he said he wasn't accustomed to the attention that he received after his swim, including the constant ringing of his phone and being drug tested.
"I had a lot of trouble doing my normal routine [after prelims]," he said. "That is a lesson. People will probably blow my phone up [if I swim fast again]. You can only learn from your mistakes."
Even with the added distractions, McHugh touched the wall first—only .14 seconds slower than his record swim in the morning, and earned a spot on the FINA World Championship team in 2015.
When the 100 breaststroke came up on the schedule, McHugh had made a name for himself. He was coming back second to Kevin Cordes, who most people considered the favorite in the event. Unlike the 50 breast, where his goal was to win, McHugh's objective was to make the National team and try to make Pan Pacs or Pan Ams.
After touching first at the halfway point, McHugh fell off the pace and touched seventh, missing being selected for any team by one spot. McHugh still made the National team through his prelims swim.
"I think I can go faster," McHugh said. "It's learning how to swim at a really high level twice."
McHugh returned to law school in late August, after what he called a mental break from swimming. McHugh said he was more disappointed by not making another team for next summer than by not making Pan Pacs.
With the 2016 Olympics a year and a half away, McHugh said he is as focused as ever on making the team. McHugh said he plans on taking a year off from pursuing his law career to focus on his swimming. He said that he has a tentative plan to return to Penn.
"I don't know if there are many places better to train," McHugh said. "They have a lot of guys that are 53 high 54 low that are 200 swimmers that will be able to push me in practice everyday. One of them will push me every day.
"The coaches made me go from whatever I was in high school to what I graduated college as," he said. "I think if I go back and do what I did in college at my new size and strength, I will go fast.
Nelson Helm is a sophomore distance freestyle specialist at Washington & Lee. Helm has trained with Carter Center Aquatics as well as the Stonegate Swim Club.