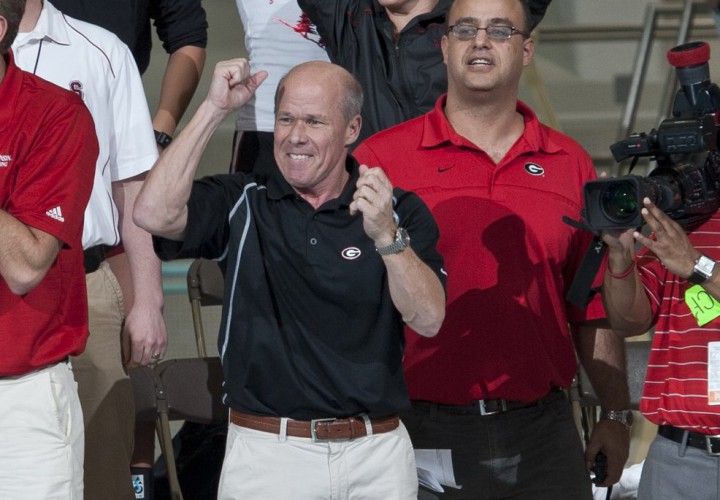 Photo Courtesy: Peter H. Bick
ATHENS – After a few days of confusion and clarification with the NCAA office, Georgia has announced the exact date of head coach Jack Bauerle's return from his suspension.
Bauerle will be able to return to coaching practice immediately, and has been cleared to return to competition as of Jan. 3.
"We received clarification on the exact timetable Jack Bauerle can return to his duties," Georgia spokesperson Steve Colquitt told Swimming World. "He can return to coaching practices immediately. He can return to coaching the team in competition at its next meet on Jan. 3."
This means that Bauerle will return to the competition deck at South Carolina on Jan. 3.
This week, the NCAA released its findings on allegations that Georgia head coach Jack Bauerle provided extra benefits to NCAA champion Chase Kalisz a year ago, and decided to fine and suspend him for nine competitions in the 2014-15 season.  The fine came out to be $5,000.
To summarize the situation, Bauerle asked one of his longtime professor friends at the University of Georgia to admit Kalisz past the add deadline, even when told not to do so by the Georgia compliance department.
After some oversight from the compliance department discovered that Kalisz was entered in the class, the violation was reported.
Bauerle admitted to the mistake, and sat out of coaching for nearly a year.
Bauerle is still unable to recruit until the end of a one-year suspension that ends on April 3, 2015.
Bauerle is also officially under a show-cause order from the NCAA until April 3, 2015.  That just means that if he and Georgia were to part ways before that date, he would carry his suspension with him.
Georgia, however, was very specific that it intended to stay the course with Bauerle once the NCAA issues were put to bed.