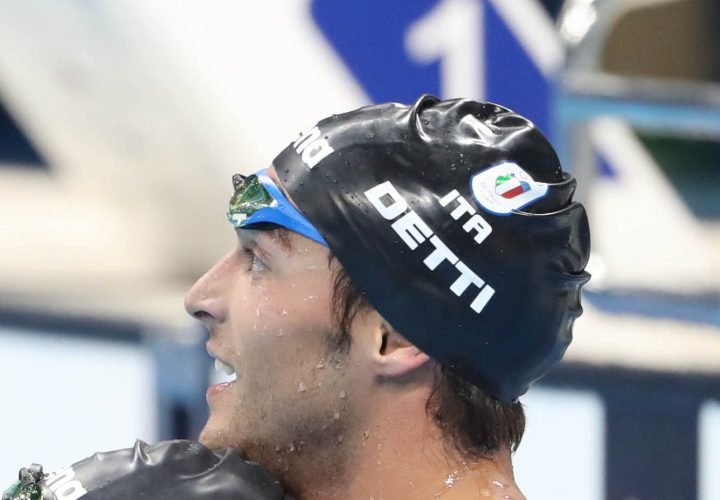 Photo Courtesy: Erich Schlegel-USA TODAY Sports
Day three of action at the Italian National Championships in Riccione saw the country's two distance stars, Gregorio Paltrinieri and Gabriele Detti, go head-to-head in the men's 800 free and post the top two times in the world, while Matteo Restivo took down a national record in the men's 200 back.
The session opened with Piero Codia touching out Andrea Vergani for the win in the men's 50 fly, 23.67 to 23.700. Codia's time matched the FINA "A" standard in the event and qualified him for this summer's World Championships in Budapest. Matteo Rivolta took third in 23.85.
The top three finishers in the women's 400 IM all comfortably cleared the FINA "A" time, but it was Stefania Pirozzi who pulled away from the field to win in 4:38.40. Sara Franceschi took second in 4:40.18, and third went to Ilaria Cusinato (4:40.70).
In the top heat of the men's 800, Detti built up an early lead over Paltrinieri and extended the margin throughout the race. He ended up finishing in 7:41.64, while Paltrinieri came in more than seven seconds back in 7:48.89. Both times easily cleared the FINA "A" cut and also the previous top time in the world, Mykhaylo Romanchuk's 7:54.34. Domenico Acerenza cracked eight minutes to finish third in 7:59.52.
Margherita Panziera dominated the field in the women's 200 back, clearing the "A" cut with her time of 2:10.88. Letizia Paruscio was second in 2:14.21, just ahead of Giulia Ramatelli (2:14.49).
Restivo won the men's 200 back by more than a second, and his final time of 1:56.55 cleared the previous Italian record of 1:56.91 set by Damiano Lestingi in 2009. Luca Mencarini also got under the "A" cut in finishing second in 1:57.81, and Christopher Ciccarese was third in 1:58.35.
In the women's 100 fly final, Silvia Di Pietro took an early lead, but Ilaria Bianchi ran her down and touched the wall first in 57.90. Di Pietro, however, did clear the "A" cut in finishing second in 58.07. Elena De Liddo was third in 58.28.