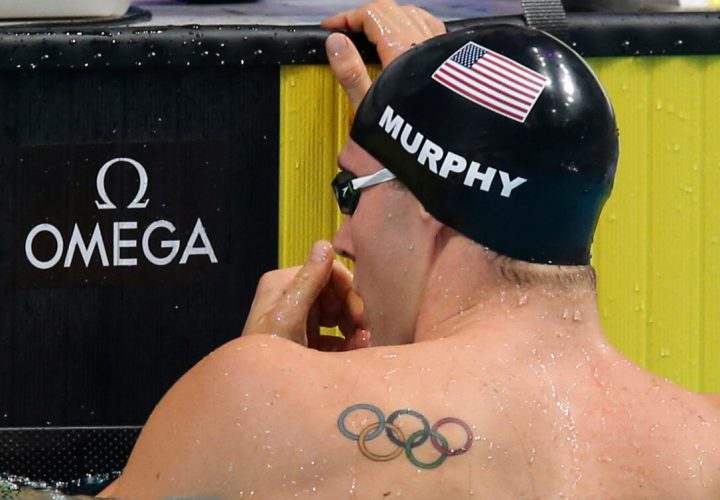 Editorial Coverage provided by

By David Rieder.
In 2016, after winning three Olympic gold medals and setting a world record, Ryan Murphy had earned the undisputed title of the world's best backstroker. One year later, he's not that anymore, and that irks him.
In the men's 100 back, Murphy faced China's Xu Jiayu and American teammate Matt Grevers, and he came in third, finishing in a time (52.59) that was more than seven tenths off his world record of 51.85 from the year before. He was still on the medal podium, but that wasn't nearly good enough for Murphy.
"Not super happy. That's about as concise as I can put it right there," he said. "Not very happy about that."
The next morning, he got another chance at the 100 back, leading off the U.S. mixed 400 medley relay. His time of 52.34 was a quarter-second faster than he'd been the night before. A frustration swim? Oh yeah.
At that point, Murphy still had the 200 back to go, and he explained that he had felt more comfortable with his 200 back tempo throughout the year. But he couldn't put together the swim he was looking for in that event either, as Russia's Evgeny Rylov built a big lead and then held off Murphy on the last 50.
Rylov's winning time of 1:53.61 was one hundredth quicker than Murphy swam to win Olympic gold in Rio. This time, Murphy finished six tenths back in 1:54.21, by no means an awful time but still not stellar, not at the level he had reached in his gold medal swims in Rio
"The whole warm-up, I don't know, I just felt a little bit off," Murphy said. "It's kind of been happening a lot this year. It's not really my race, not really my season, to be honest."
Indeed, Murphy has been a bit off best form all year. In March, he closed out his spectacular NCAA career with his fourth straight national titles in both the 100 and 200-yard backstrokes, but his times were nowhere close to his own American records in either distance.
After that meet, he turned professional—he signed an apparel deal with Speedo in June—and set his sights on long course full-time. And while he was mostly winning his domestic backstroke races, the times again just were not up to his usual standard.
When he got to Budapest, it still didn't click, and after he contributes a backstroke leg to the U.S. men's 400 medley relay Sunday morning, that will be it for a 2017 season that Murphy freely admits has been disappointing and frustrating.
What exactly happened this year? Well, life. Following the Olympics, he returned to being a student-athlete and tried to catch up on pieces of that experience that he had put on hold as he pursued Olympic gold. Dave Durden, Murphy's coach at Cal-Berekely, encouraged that.
"We didn't sit down at the beginning of this season and talk about how we wanted to perform at World Championships. We wanted him to get back into the college experience," Durden said at U.S. Nationals. "As a 21-year-old athlete, we had to make some compromises with that going into the Olympic year. As he comes off the Olympic year, let's go back and enjoy that lifestyle."
Not that it was all enjoyment. Murphy had intentionally planned to take some of his hardest classes at Cal-Berkeley during the post-Olympic year, and he ended up spending most of his free time doing homework instead of focusing on recovery.
But now that Murphy has made the transition to professional swimming and only two classes to go before he graduates from Cal, the distractions of college life won't be an issue for much longer—a welcome change for a 22-year-old stewing after seeing his results from Budapest.
He already sees his dissatisfaction turning into motivation.
"Without a doubt, no one's going to out-work me these next three years. People might have this year—I went to every practice, I worked hard, but I didn't have that same level of focus, that same amount of motivation to be great, and I think that's what's really going to come out of this meet," Murphy said.

"I'm not the best backstroker in the world at this point. It's a title I want. I'm going to do everything I can do to get that back."
That task will be difficult—Xu swam only one hundredth slower than Murphy's world record in the 100 back earlier this year, and he and Rylov are both younger than Murphy.
He's still the double Olympic gold medalist, but after the way things went in Budapest, Murphy views himself as the underdog, the man chasing an accomplishment that someone else has—just like he was before Rio.
Perhaps that makes Ryan Murphy just as dangerous as ever.