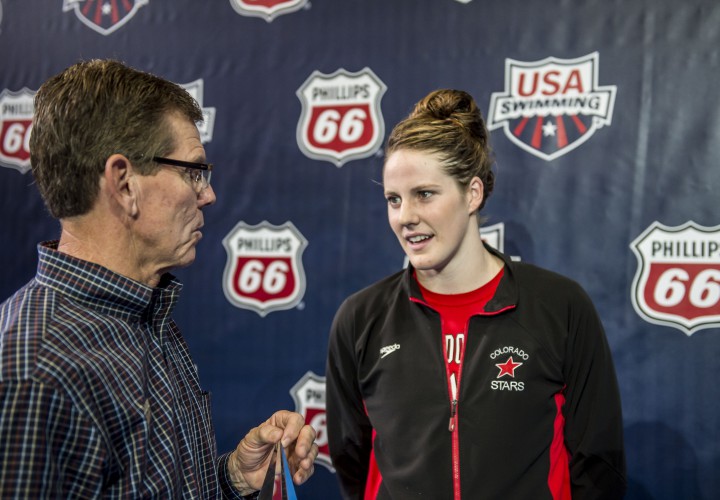 Photo by Peter Bick
Editorial coverage for U.S. Senior Nationals proudly sponsored by Master Spas!
By David Rieder
IRVINE, California, August 9. IN the middle year between Olympics in each quadrennial, the United States picks its World Championships team a full year in advance. And seemingly each time out, outsiders begin asking questions as to why they employ that particular system. Usually, no one gets much of an answer outside of status quo. When Frank Busch took over as U.S. National team director, he suggested that he would look into the current methods, but nothing changed in 2014.
Today, Busch answered questions about those methods, providing for the first time his motivation for keeping the system in place. Busch argues that since for both the Olympics and the post-Olympic World Championships athletes have to rest for a qualifying meet by July 1, they do not get a full summer of training. In this system, athletes get two out of four summers of consistent training that he hopes will best prepare them for Olympic competition. Essentially, he believes that up-and-coming swimmers will gain more from additional training than they will from racing at World Championships a year before the Olympics.
During a press conference with media at U.S. Nationals, Busch admitted that the team selected for the World Championships this year "probably won't be our best team" by next summer. "It's not that the World Championships aren't an important meet for us," Busch emphasized, but he made clear that he believes additional training can be more useful in the long run.
Also during today's press conferences, U.S. Pan Pacs women's team coach Teri McKeever talked about members of the Pan Pacs team competing among themselves for spots at Worlds. She admitted the dynamic of being both teammates and competitors can be "challenging" to coach, but both she and men's coach Bob Bowman seemed excited about the rosters they would be taking to Australia later this month.