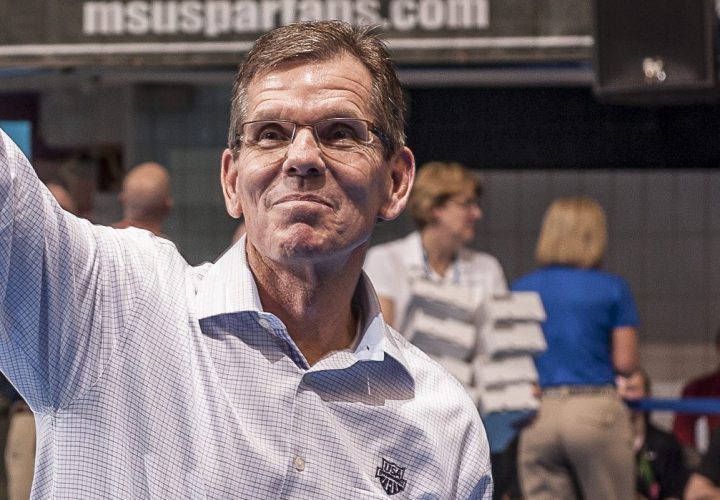 Photo Courtesy: Peter H. Bick
Frank Busch has announced that he will be stepping down as USA Swimming's National Team Director effective September 1, 2017. Busch will see the National Team through the 2017 World Championships in Budapest, Hungary.
Busch has been at the helm of the USA National Team since spring of 2011 when he took over for interim National Team Leader Jim Wood who replaced Mark Schubert. Dennis Pursley was the first National Team Director hired back in 1989.
Under Busch's guidance, Team USA has brought home a total of 64 Olympic medals at the 2012 and 2016 Olympic Games.
Busch was featured on the cover of Swimming World Magazine's April 2011 issue as was his NCAA Championship Teams in the May 2008 issue
Prior to becoming the National Team Director, Busch was the head coach at the University of Arizona for 22 years. During his tenure at Arizona, Busch coached his team to 48 individual titles and 31 relays wins at the NCAA Division I level. He won both Men and Women NCAA DI titles in 2008. He was named NCAA Coach of the Year six times and Pac-10 Coach of the Year 11 times.
Busch began his journey with USA Swimming and the National Team in 1993 when he served as one of the World University Games coaches, before moving on to the head coach position for the 1997 Pan Pacific Games team. Additionally, Busch served on the U.S. coaching staffs for the 1998 World Championships, 1999 Pan Pacific Games, 2003 World Championships, and 2004 and 2008 Olympic Games.
Busch's coaching career spans over 50 years after getting his first head coaching job at the age of 16 for the Brookwood Country Club in Northern Kentucky. He went on to coach the Northern Kentucky Piranhas, the Cincinnati Marlins, and then the University of Cincinnati before going to the University of Arizona.
It is Swimming World Magazine's understanding that a task force will be set up to vet and recommend the hiring of the next USA Swimming National Team Director.  This search comes on top of USA Swimming's search for its next Executive Director, placing two important leadership changes in the future of USA Swimming.
USA Swimming Press Release:
COLORADO SPRINGS, Colo. – Frank Busch, USA Swimming's National Team Director since 2011, announced today he will retire from the position effective Sept. 1, 2017.
Under Busch's leadership United States swimmers topped the medal table at the 2016 and 2012 Olympic Games and three straight long-course FINA World Championships, totaling 145 medals across these five major international events.
"Frank has constructed a National Team culture that is rooted in personal accountability, integrity, hard work, teamwork, goal-setting and the values that come with the continual striving for excellence. The results speak for themselves with the great success we had at the 2012 London Olympic Games and again this past summer in arguably the greatest performance ever by an Olympic swim team with 33 medals in Rio," USA Swimming Executive Director Chuck Wielgus said.
Team USA won 64 medals – 32 of them gold – over the past two Olympic Games, including 33 total medals last summer in Rio de Janeiro and 31 at the 2012 London Games. Over the past three long-course FINA World Championships, Team USA has combined for 81 medals, 38 of them gold.
Busch will continue in his current role through this summer's 2017 FINA World Championships in Budapest, Hungary.
"I'm forever grateful to Chuck for giving me the opportunity to lead USA Swimming's National Team division. It was the gold standard internationally long before I arrived, and the people that I've been able to work with over the last six years are remarkable people and the best in the world at what they do," Busch said.
"In my coaching career I believed that every athlete's personal growth was as important as their success in the pool, and that's an underlying current of everyone that works in the National Team division. Working with the best in the world is a dream come true for anyone, and I have certainly lived that dream. It's been an incredible team effort with everyone that works at USA Swimming. They all believe in achievement and they all work hard toward it."
Busch added, "The National Team division has grown three of its most important areas – high performance, National Junior Team development and athlete services – into truly great models that every swimmer and coach in this country can be proud of."
Prior to joining USA Swimming as National Team Director on May 1, 2011, Busch was a standout collegiate and club coach, most recently at the University of Arizona from 1989-2011. There, he guided the Wildcats to men's and women's NCAA team titles in 2008 and a combined 25 top-five finishes at the NCAA Championships. His club affiliate, Tucson Ford Dealers Aquatics, also earned USA Swimming national championship titles under his leadership.
During his coaching years, Busch was named to numerous coaching staffs for USA Swimming, including the 2004 Athens Olympic Games and 2008 Beijing Olympic Games. In addition to his contributions to American swimming, Busch has coached athletes from over a dozen other countries to international success.
Busch has been the recipient of multiple coaching awards including United States Olympic Committee (USOC) and USA Swimming Coach of the Year. He is a six-time NCAA Division I Coach of the Year and earned the Pac-10 Conference Coach of the Year award 11 times. He was inducted into the American Swim Coaches Association (ASCA) Hall of Fame in 2008.