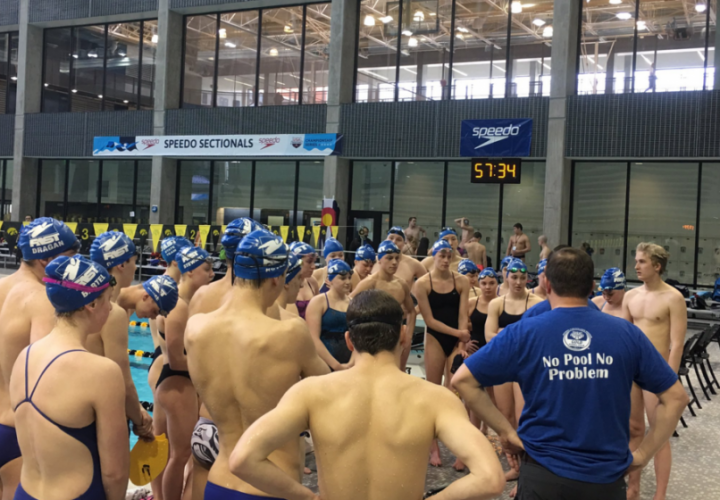 Photo Courtesy: Fort Collins Area Swim Team Twitter (@FASTfortcollins)
Speedo Sectional Series is proudly sponsored by Speedo. Visit SpeedoUsa.com for more information on our sponsor.
Fort Collins Area Swim Team dominated the women's meet at the 2018 Speedo Sectionals Championship Series in Federal Way, Wash. King Aquatic Club won the men's meet.
Top 5 Women's Team Scores:
1. Fort Collins – 1433
2. King – 965
3. Bellevue – 688.5
4. Lake Oswego – 523
5. Tualatin Hills – 503
Top 5 Men's Team Scores:
1. King – 1089
2. Tualatin Hills – 689
3. Hillsboro – 677
4. Fort Collins – 602
5. Bellevue – 578
Full results can be found on Meet Mobile – 2018 Speedo Sectionals – Federal Way.
Issaquah's Sarah Dimeco won her second event of the weekend, this time dropping nearly 15 seconds to win the women's 1650 free in 16:19.78. Corvallis' Lindsey Soule finished second in 16:35.52 and Charger's Allison Bernier finished third in 16:51.11.
Hillsboro's Ethan Heasley earned his fifth gold medal of the meet, dropping over 16 seconds to win the men's 1650 with a time of 15:06.12. His teammate Luke Thornbrue (16:11.07) took second and Corvallis' Noah Vial (15:26.71) was third.
Fort Collins swept the podium in the women's 200 IM, led by future Stanford Cardinal Zoe Bartel (1:55.70). Teammates Coleen Gillilan (1:57.99) and Kylee Alons (1:58.44) finished second and third, respectively.
Fort Collins' continued their winning ways in the 200 IM with William Kovac claiming the men's event in 1:46.66. Second went to Billings' Ethan Harder (1:47.75) and third went to King's Daniel Roy (1:47.83).
The Dolphins Portland's Kaitlyn Dobler sprinted her way to first in the women's 50 free, touching the wall in 22.39. Pro Swimming's Janelle Rudolph was second in 22.78 and Bellingham Bay's Emma Carlton was third in 22.94.
Iolani's 'aukai Lileikis was the only swimmer to crack the 20-second barrier in the men's 50 free, doing so in 19.97. Tualatin Hills' Caspar Corbeau was second in 20.14. and Kovac powered his way to third in 20.24.
Fort Collins' Bayley Stewart (55.83), Bartel (1:01.21), Gillilan (52.50) and Alons (48.96) dominated the women's 4×100 medley relay with a time of 3:38.50. Lake Oswego was second in 3:41.79 and Fort Collins B finished third in 3:42.60.
Bellevue's Kyle Millis (48.66), James Deiparine (53.74), Jackson Dudley (49.11) and Andrew Boden (45.47) concluded the meet with a win in the men's 4×100 medley relay with a time of 3:16.98. King finished second in 3:17.32 and Tualatin Hills wound up third in 3:20.89.