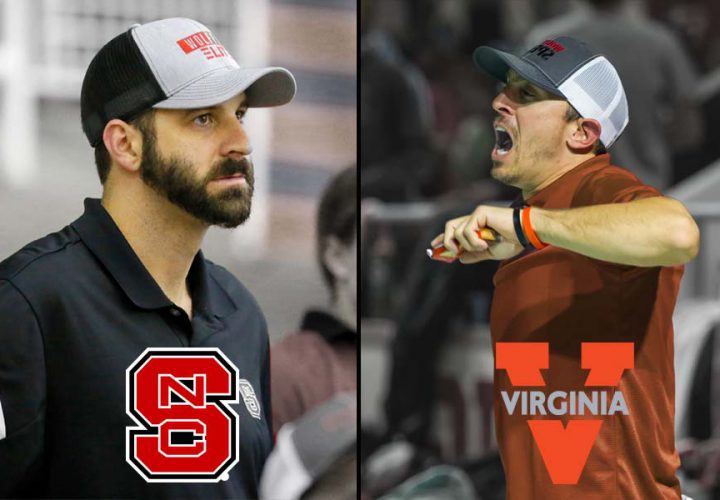 Morning Splash by David Rieder.
As Braden Holloway built NC State into one of the top swimming programs in the country, Todd DeSorbo was his chief lieutenant.
Last season, in year six of their tenure at NC State, the Wolfpack men dominated the 800 free relay to open the NCAA championships, and afterwards, Holloway asked DeSorbo to accompany him to the press table to acknowledge his key role in the effort. Neither man knew for sure, but even then it was a real possibility it could be their last NCAAs together as colleagues.
That's because DeSorbo had already been sought after for head coaching roles and turned them down. The following summer, he finally accepted one—at the school that was one of NC State's biggest competitors, Virginia.
The Cavaliers had captured the women's ACC championship every season from 2008 until 2016 before NC State claimed the title in 2017. Now, DeSorbo was switching sides, and Holloway was losing a key assistant who also happened to be a good friend.
"He earned that position, and we were happy for him," Holloway said of DeSorbo's departure. When he wanted to go after it, I was supportive. I knew it was something that he wanted to do, and it's a great spot for him, and I was really supportive of it."
But then again, just a few weeks after DeSorbo accepted the Virginia job, Holloway did have this to say: "It'll be a little more fun of a rivalry."
The date for the renewal of that rivalry was January 19, when NC State traveled to Charlottesville for the annual dual meet between the teams. Sure, no conference title would be up for grabs in a dual meet, but tensions were still high before the first race of the meet, the women's 200 medley relay.
"You could slice the air with a knife," DeSorbo said.
As the referee blew the whistle for the backstrokers to enter the pool, both Elise Haan, leading off NC State's A-team, and Abby Richter, in the same position for Virginia, stood still. Neither one wanted to jump in the pool before the other.
"It was loud. The fans and alumni at Virginia wanted it to be loud," Holloway said. "The backstroke standoff was entertaining. As soon as I saw it happen, I knew Elise was going to go fast."
Indeed, Haan got the Wolfpack out to a lead with her 24.81 leadoff split, but Virginia took command on the breaststroke leg and pulled away, winning the race by three tenths of a second.
On the UVA side of the pool, DeSorbo was loving it—the electric atmosphere and the way his new team stepped up in a tense juncture to begin the rivalry meet. Coaching against the Wolfpack, he insisted, felt in no way awkward. Before the meet he had enjoyed catching up with his friends on the NC State coaching staff, but once it started, he was laser-focused on his team.
"To be honest, it didn't feel a whole lot different than any other meet," DeSorbo said. "That may sound odd, but I really get so into what our team is doing and focused on our team and how they're racing and how they're swimming. I didn't really notice them on the other side of the pool deck. I didn't really notice how their swimmers were doing unless it was a close race or something like that."
In what was expected to be a highly-competitive women's meet, DeSorbo's new team stepped up, and his old team did not have the firepower to keep the contest close. Even with Virginia losing Olympian Leah Smith to graduation, NC State lost plenty of its aces as well, with NCAA A-finalists Alexia Zevnik and Kayla Brumbaum moving on.
NC State's Hannah Moore, arguably the best distance swimmer in the country outside of Katie Ledecky, did her job, with wins in the 500 and 1000 free, but NC State won just two other races all day.
The Cavaliers, on the other hand, were energized, and big swims came from veterans of the Augie Busch era like senior Caitlin Cooper and from newcomers like freshman Anna Pang.
"They just got really pumped up. Especially for the women, they had that salty taste in their mouth," DeSorbo said.
Early in the meet, UVA sophomore Morgan Hill recorded a time of 1:44.81 in the 200 free, a lifetime best by seven tenths of a second. Yes, a lifetime best time in a dual meet. It was that kind of day for the Cavaliers.
"Morgan Hill, I think, is capable of a 1:42 200 freestyle," DeSorbo said. "I told her that at the beginning of the season. When I watch her train, she trains like nobody I've ever seen from the 200 down kind of perspective. She's capable of being that good. I don't think she believed me, but now I think she does."
Behind those efforts, Virginia's women won big, 178 to 117.
The men's meet, on the other hand, was never going to be particularly competitive, and it wasn't. Ryan Held, Justin Ress and Co. laid the hammer down on the Cavaliers, 193 to 100. Virginia won an ACC title on the men's side as recently as 2013, but the team has not finished higher than fourth at the conference meet since then.
DeSorbo knows that, and he also knows where NC State's program stood before Holloway's staff arrived—outside the top five in the ACC every year since 2000. This year, the Wolfpack men have championship aspirations—national, not just conference—after three straight ACC titles and fourth-place finishes at the NCAA championships the past two years.
And while he's happy for his former colleagues and swimmers at NC State, he has expectations of elevating his Cavalier men to that level as well.
"I knew when I was leaving that I was leaving a team that potentially on the men's side could win a national title this year," DeSorbo said. "I do believe that our men in the very near future will be on that level also."
On the other side of the pool, Holloway was obviously unhappy that his women's team was getting blown out, but seeing how his former assistant had already left his imprint upon a new team pleased him.
"I know how he is, I know his strengths, and I saw all that today," Holloway said. I saw his coaching style and the way he is as a person reflected in his team. It was cool."
Before that dual meet, Holloway and DeSorbo hadn't actually seen each other in several months, but the two will reunite again soon, with the ACC championships coming up next month, and many more times over the next few years as major conference rivals.
"We want the best for each other," Holloway said, "but we're both competitive at the same time."