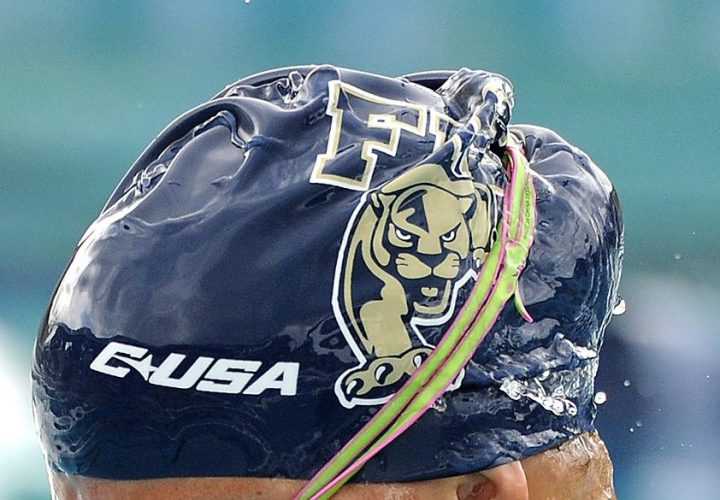 Photo Courtesy: Sam Lewis
Florida International has won the last two Conference USA championships and got off to a quick start Wednesday night by winning the two opening relays.
The Golden Panthers won the 200 medley relay thanks to a stellar back half. Naomi Ruele (24.65), Carita Luukkanen (28.18), Letizia Bertelli (23.26) and Jenny Deist (22.09) comprised the relay for FIU as they touched at 1:38.18, followed by Rice (1:38.74) and Marshall (1:39.52). Rice gave FIU all they could handle as the race went on as Alicia Caldwell (25.44), Marie-Claire Schillinger (27.07), Kiley Beall (24.17) and Kate Nezelek (22.06) were right behind the Golden Panthers. Marshall got off to a quick start in that relay but did not have the back half to hang with the Golden Panthers or the Owls. Freshman Sirena Rowe got the Thundering Herd off to a quick start at 24.15 as she was followed by fellow freshman Catherine Bendziewicz (28.21) and upperclassmen Chloe Parsemain (24.53) and Gloriya Mavrova (22.63).
Florida International continued their momentum after a lengthy break into the 800 free relay where they touched in 7:09.02. Skye Carey got things started with a sizzling 1:46.84 and there was no looking back. Megan Bowen (1:47.61), Berta Triola (1:46.86) and Kyna Pereira (1:47.71) finished the relay and won comfortably ahead of Rice (7:14.86) and Marshall (7:17.72). The ladder two teams had a good battle throughout there race but Alicia Caldwell of Rice finished in a 1:47.53 ahead of Marshall's Madi Pulfer (1:50.07). The Panthers were the only team with 1:46 splits as well as the other two 1:47s to boot. The only other 1:47s came from Caldwell and Marshall's Bendziewicz (1:47.16) on the second leg. There were no seniors in any of the top three relays so expect the conference to get faster in the coming years as well as move up the national ranks.
The meet will continue tomorrow from Atlanta with prelims at 10:30 AM EST.
Team Scores:
Florida International, 80
Rice, 68
Marshall, 64
North Texas, 60
Old Dominion, 56
Florida Atlantic, 26