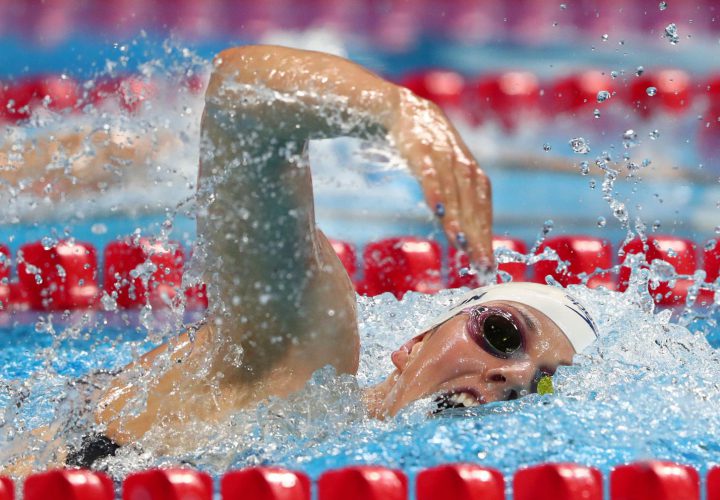 Photo Courtesy: Rob Schumacher-USA TODAY Sports
By Jason Tillotson, Swimming World College Intern.
With the new year already among us, if you are anything like me, you've already begun to predict what the swimming world will give us this year. Between NCAA championships, Summer Nationals and World Championships we are in for a year of very fast swimming. Here are five of my predictions for what is in store for us this year.
1. Caeleb Dressel will defend his NCAA 50 Freestyle Title (if he swims it).
We have seen Caeleb Dressel dominate almost everything he swims at the collegiate and national level. Even from his days at Bolles, spectators have had the pleasure to witness some of the fastest times in age group swimming. His versatility to swim a wide range of events throughout his collegiate career continues to impress his swimming repertoire as he takes on more than the sprint freestyle events.
For example, just a few months ago, Dressel threw down a 44.86 and 1:42.77 in the 100 butterfly and 200 IM at the 2016 Georgia Tech Fall Invitational. Not to mention, his signature 50 and 100 freestyle combo, which have both been sub-19 and sub-42, respectively, this season.
This makes for a tough decision for head coach Gregg Troy and staff in terms of what Dressel will be most successful in against the rest of the country. It is not unheard of for some athletes to swim different events at the conference meet, in order to score more points within the conference, then switch to some other races for the NCAA meet. With that, we may see Dressel shy away from the 200 IM at SEC's, in order to put up an almost guaranteed win for the Gators in the 50 freestyle. With his NCAA presence still up in the air in terms of the 50 freestyle, if he does swim it, he'll defend his national title.
2. The California men and Stanford women will win Division 1 NCAA's.
This one is probably the most up-in-the-air. Anything can happen at NCAA's. Some athletes come into the meet on fire, then fail to perform during prelims, leaving them out of any chance of scoring points. On the other hand, some swimmers come in relatively unnoticed, and yet end up sneaking into a final or two. Relays are always unpredictable due to false starts, (N.C State is the prime example), so it is difficult to accurately predict the scoring of a meet like Division I NCAA's.
Last year, the Texas men had four scoring dives, while Cal had none. Cal also had some relay disqualifications last year while Texas and Florida were safe on all their starts.
For the women, the Stanford triple threat of Katie Ledecky, Lia Neal and Simone Manuel will be hard for any other team to match.
Moreover, in terms of mid-season rankings, both the Cal men and Stanford women are set to score major points with their respective Olympians. Ledecky has posted the fastest times in collegiate history in in the 500, 1000 and 1650 freestyles for the Cardinals, while Ryan Murphy has continued his Olympic success with the fastest times throughout the country in the 100 and 200 backstrokes for the Golden Bears.
3. The average age of the United States' World Championship team will be equally as young or younger than that of the Olympic team.
This past summer we saw a very young Olympic team. The average female age was 22.6, while the average male age was 24. With several of the older Olympians either retiring or taking a hiatus from international competition (Michael Phelps, Connor Jaeger, David Plummer, Ryan Lochte, etc.) and the very quick class of young talent we have in the U.S. at the moment (Isabel Ivey, Max Rooney, and Michael Andrew), seeing a younger World Championship roster this summer is a likely possibility.
4. Katie Ledecky will not win the 200 free at the NCAA championship.
Okay, let me explain. For starters, she's behind Simone Manuel right now in the national rankings and, despite winning the gold medal, came up short of the world record this summer at the Olympics in the long-course 200 freestyle. Ledecky, in comparison to her other signature events, has had little success in the 200 freestyle and has yet to show serious speed that can outdo the likes of Simone Manuel or Lia Neal. With that, Ledecky might even opt-out of the 200 freestyle and swap it for the 400 IM.
5. Missy Franklin will come back better than ever, training under Dave Durden.
Even Missy Franklin herself came out and admitted the Rio Olympic Games were disappointing. Perhaps the move back to Colorado after her two-year collegiate career at Cal was a mistake. Perhaps the pressure of becoming a pro-athlete so soon before the Games was too much for Franklin. Maybe she just missed her taper. Either way, Missy Franklin is in great hands with Dave Durden.
Durden has seemed to master the art of training post-graduate swimmers to reach their potential. For example, Natalie Coughlin, Anthony Ervin, Nathan Adrian, just to name a few. The best is yet to come for Missy Franklin. With Durden's sprint focus on most of his post-grads, Franklin may be able to transition into some other, shorter events as well which could bode well for her future.
All commentaries are the opinion of the author and do not necessarily reflect the views of Swimming World Magazine nor its staff.