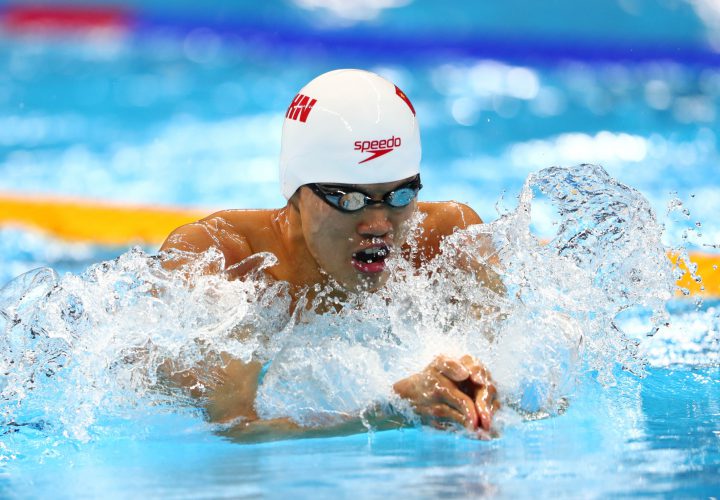 Photo Courtesy: Rob Schumacher-USA TODAY Sports
The fast swimming continued with five more championship records falling in individual events at the final day of competition of the 2016 Asian Swimming Championship.
China turned in a 1-2 finish in finals of the women's 800-meter free as the duo of Hou Yawen and Dong Jie posted times of 8:26.49 and 8:35.21 respectively.
Satomi Suzuki of Japan powered to a new championship record of 31.28 in finals of the women's 50-meter breaststroke. Suzuki's time took down the previous record of 31.37, which teammate Misaki Sekiguchi neared with a second-place finish of 31.39. China's Shin Jinglin rounded out the top three with a 32.04.
The men's 50-meter free proved to be one of the closest races of the night as Japan's Katsumi Nakamura and China's Yu Hexin posted matching times of 22.03. Their times erased the previous championship record of 22.37, etching their names in the record book.
The championship record came tumbling down in the women's 200-meter IM as Japan's Yui Shashi and Runa Imai powered to a 1-2 finish. Ohashi turned in a first-place finish of 2:11.46 to overturn the previous record of 2:12.55, while Imai finished with a 2:12.58.
The top two swimmers in the men's 200-meter IM slid past the previous championship record of 1:58.66, but it was China's Wang Shun who touched first. Wang stopped the clock at a 1:56.66 to win gold and claim the new championship record, while Japan's Daiya Seto posted a second-place finish of 1:57.80.
China's Chen Jie and Liu Yaxin grabbed gold and silver respectively in the finals of the women's 200-meter backstroke, both touching below the championship record of 2:09.58. Chen turned in a 2:08.98 to earn the championship record, while teammate Liu settled for second and a 2:09.01.
Xu Jiayu of China flirted with a sub-53 second swim in finals of the men's 100-meter back with a final time of 53.02. Teammate Li Guangyuan took second overall with a 54.30, while Japan's Takeshi Kawamoto posted a close third with a time of 54.39.